As much as I enjoy cooking, it's nice to have a dish that makes several servings and keeps well in the freezer. This Chicken Enchilada Casserole is just that. When I don't have time to cook or I need a to grab something for lunch at work, this casserole is perfect. It's easy to assemble and makes eight servings, so I can save the rest for later. It's also low in calories and quite healthy for you, bonus!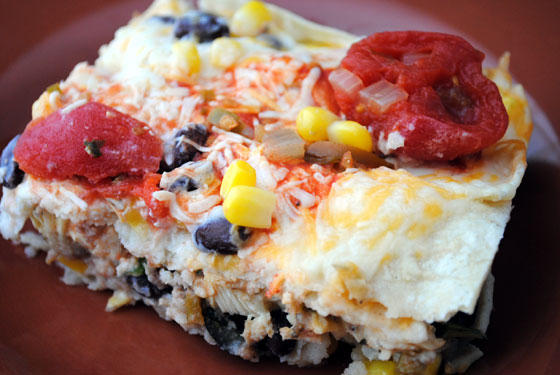 So, how's it taste?
You may think this looks familiar. It's pretty similar to my Layered Chicken Black Bean Enchiladas, but with significantly less calories and half the fat! The taste is quite different, but equally delicious. The original recipe called for stewed tomatoes, but I found them to be way too chunky for a casserole, so I suggest using diced tomatoes. I liked the addition of corn and black olives as well. This casserole packs a ton of flavor for a meal under 300 calories. The yogurt mixture mimics sour cream and makes this dish very moist. The cumin and oregano really brighten it up. If you'd like even less calories, you can use reduced-fat cheddar, fat-free yogurt, and skim milk. I used all three of those for my dish and it tasted great. I packed each serving of this individually into the freezer and it made for easy work lunches. Kind of like your own frozen entree but much better for you.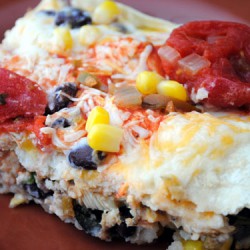 Chicken Enchilada Casserole
Ingredients:
10 oz. frozen corn kernels, thawed slightly
12 (6-inch) corn tortillas
1 cup salsa
1 can (14 - 16 oz.) diced tomatoes, drained
8 oz. low-fat plain yogurt
1/2 cup low-fat milk (I used skim)
3/4 tsp. salt
24 pitted black olives, sliced
16 oz. canned black beans, rinsed & drained
1/2 lb. cooked chicken, torn into shreds
1/2 cup scallions or chopped onion
1/4 cup fresh cilantro
1/4 tsp. black pepper
1 tsp. ground cumin
1 tsp. dried oregano
1 cup shredded sharp cheddar cheese
Directions:
1. Heat oven to 350. Lightly coat a 13x9x2-inch baking dish with cooking spray.
2. Sprinkle 1/2 cup corn kernels in prepared dish. Tear each of 6 corn tortillas into 4 or 5 pieces; arrange, overlapping, to cover bottom of dish.
3. Mix salsa and tomatoes in medium-sized bowl. In another bowl, stir together yogurt, milk, and 1/4 teaspoon salt.
4. Spoon 1 cup salsa mixture over tortillas in dish. Drizzle with 1/2 cup yogurt mixture; sprinkle with olives. Reserve 1/4 cup each corn and beans; sprinkle remaining corn and beans over casserole. Top with chicken, scallions, and cilantro. Sprinkle with remaining 1/2 teaspoon salt, pepper, cumin, and oregano. Sprinkle with half the cheddar; spoon 1/2 cup salsa mixture over top.
5. Tear remaining tortillas into pieces. Overlap on top to cover. Sprinkle with reserved corn and beans. Spoon on remaining salsa mixture. Drizzle remaining yogurt mixture over top; sprinkle with remaining cheddar.
6. Bake, covered, 15 minutes. Uncover; bake 10 minutes or until hot and lightly browned.