The other day I was thinking about my Veggie Quiche Cups and had the idea that they'd be fantastic as a sandwich. A Healthy Breakfast Sandwich to be exact. I eat breakfast twice these days (say it in your LOTR accent: Second Breakfast!) since I get up so early for work and I wanted something tasty, filling, and low calorie. I was madly in love with Kellogg's breakfast sandwich, but it was time to cut out the processed food and save some money making my own. I recently got into kale and had to buy a huge bag, so I improvised on my Veggie Quiche Cups and used a ton of kale and spinach.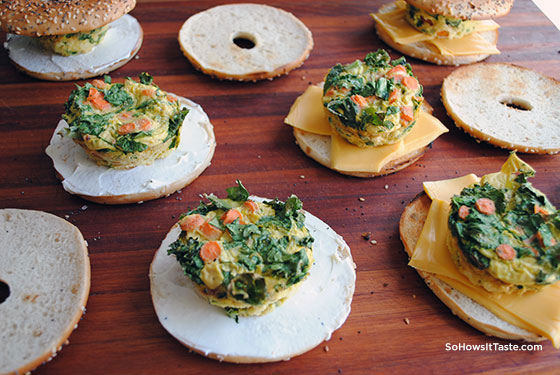 So, how's it taste?
I was expecting them to be just ok and that I would miss my processed sandwich. Nope! These were fantastic! I couldn't believe how much flavor they packed. Such a simple recipe, piled high with greens and a touch of Sriracha and I was sold. I made the first batch with English muffins, the low-calorie wheat/fiber kind. The English muffins probably hold the contents better, but I can't resist a good everything bagel. Now that they make Bagel Thins, they are more calorie-friendly as well. I used a low-fat American cheese on some and a low-fat cream cheese on the other. Both are delicious and give the sandwich that extra little something beyond the egg muffins.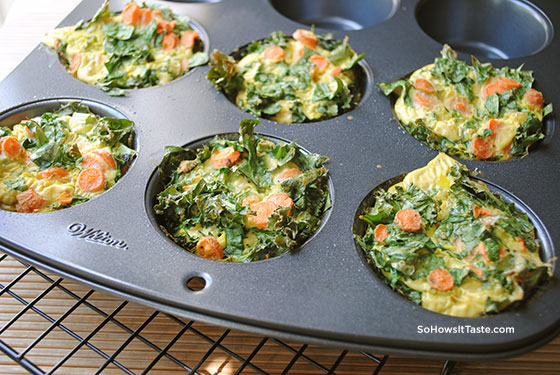 I put a lot of kale and spinach in my egg muffins. So much so, that the greens stick up in the pan, but that turned out great because kale gets crunchy when you bake it! The carrots are a bit crunchy too, which I like. There are all kinds of textures going on in this sandwich. I bake my egg muffins on Sunday and prep for an entire week of second breakfast. Simply wrap the sandwiches in foil (after they've cooled from toasting) and store in the refrigerator. Wrap in a paper napkin and reheat for about 45 seconds in the microwave. Easy and healthy breakfast!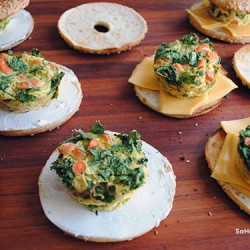 Healthy Breakfast Sandwiches
So, How's It Taste? original
makes 6 sandwiches
about 150-165 calories each, depending on bread & cheese
Ingredients:
1 cup egg substitute (I use Egg Beaters)
1/2 cup chopped fresh carrots
1 cup chopped fresh kale
1 cup chopped fresh baby spinach
1 tsp. Sriracha (or more if you want it spicier)
1/2 tsp. salt
1/4 tsp. pepper
6 English muffins or Bagel Thins
6 slices of low-fat American cheese or 6 tbsp. low-fat cream cheese
Directions:
1. Preheat the oven to 350F. Spray a muffin tin with non-stick cooking spray.
2. Combine the egg substitute and all the veggies in a medium mixing bowl. Add the Sriracha, salt, and pepper. Stir until the spices are mixed and the veggies are coated with the egg substitute.
3. Spoon the mixture into 6 wells of the muffin tin. Bake for 25-30 minutes or until a toothpick inserted in the center of one egg muffin comes out clean. (Mine overflowed a bit, so just in case, put a baking sheet underneath.) Let cool 5 minutes on wire rack. Use a knife to loosen the edges and remove the egg muffins.
4. Toast both halves of each English muffin or Bagel Thin. Place one slice of cheese (or 1 tbsp. each of cream cheese) on one English muffin or Bagel Thin half. Top with one egg muffin each and other half of English muffin or Bagel Thin. Eat immediately or wrap in foil and store in fridge. Wrap in a paper napkin and reheat for 45 seconds in the microwave.