Oh pasta, I love it so much. I gravitate towards pasta dishes. I think I could eat it once a day and be perfectly happy. I don't know if it's all those yummy carbs or the different sauces. I also seem to really luck out in the pasta arena when it comes to lower calorie versions. Sure, you can really blow your calories out of the water with some pasta dishes (I'm looking at you carbonara!), but I'm learning it's pretty easy to enjoy pasta while watching your waistline. Even though I bookmarked this Fettuccine with Tomato Cream Sauce, I didn't think much about it. The ingredients are quite simple and other than the cream cheese, it wasn't that intriguing. That all changed with bite one.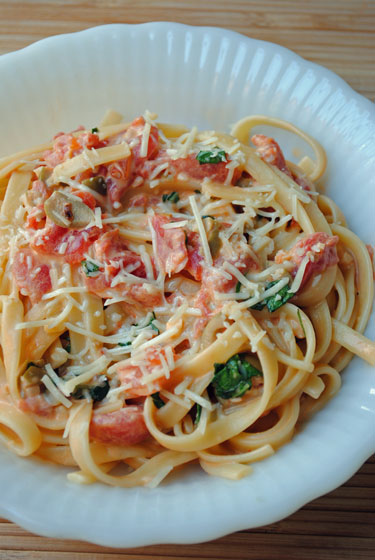 So, how's it taste?
So stinkin' good! I really thought it would be nothing special, but wowza was I wrong! That little bit of cream cheese just makes the sauce. I love cream sauces. Love, love, love them. The cream with the crushed tomatoes is really quite decadent. The leaves of basil give that familiar flavor, but the olives bring a nice surprise. Tangy and salty, they cut through the cream. There's a bit of heat in the background from the red pepper, but it's not too spicy. If you want more spice, feel free to add more. It was just enough with the red pepper, olives, tomatoes, and cheese to remind me of pizza! Leftovers were just as tasty. I splashed a bit of milk into my serving before reheating it and it returned to its normal creamy self.
I like a thick cream sauce, so I opted to only use one cup of the reserved pasta water. I drained my tomatoes, but after crushing them by hand I had a bit of tomato juice. I added that juice and reducing the pasta water produced the perfect consistency for me. I think the 1/3 cup more would be ok, but I'd recommend adding it in increments until you get the consistency you like. The pasta will continue to soak up the liquid as it cools, so the full amount shouldn't make a runny sauce.
Will definitely be making this dish again soon!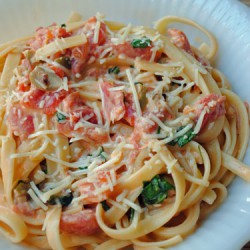 Fettuccine with Tomato Cream Sauce
Ingredients:
8 oz. uncooked fettuccine
4 quarts boiling water
1/2 tsp. kosher salt, divided
1 tbsp. olive oil
3 tbsp. coarsely chopped garlic
1 (28 oz.) can whole peeled tomatoes, drained and crushed
3 oz. 1/3-less-fat cream cheese
1/4 cup oil-cured olives, pitted and coarsely chopped
1/4 tsp. crushed red pepper
1/4 cup small fresh basil leaves
1/2 oz. Parmigiano-Reggiano cheese, shaved or shredded
Directions:
1. Cook pasta in 4 quarts boiling water with 1/4 teaspoon salt for 8 minutes or until noodles are almost al dente. Drain pasta through a sieve over a bowl; reserve 1 1/3 cups pasta cooking water.
2. Heat a large skillet over medium-low heat. Add oil to pan; swirl to coat. Add garlic; cook 2 minutes or until very fragrant and tender, stirring occasionally. Stir in remaining 1/4 teaspoon salt and tomatoes; cook 3 minutes, stirring occasionally. Stir in reserved 1 1/3 cups pasta water (I used 1 cup); bring to a boil. Add cream cheese; stir until smooth. Add pasta, olives, and red pepper; cook 3 minutes or until pasta is al dente, tossing to coat. Divide pasta mixture among 4 shallow bowls; top each serving with 1 tablespoon basil. Divide Parmigiano-Reggiano evenly among servings.