I first made this sandwich years ago for a picnic with friends. It's been on my list to make again soon so I can share it with you and have the recipe on my blog. This past weekend was the perfect time to make Roast Beef Sandwiches with Sun-Dried Tomato Spread. You see, it's scorching down here in Tennessee and I had plans to grill over the weekend, but thanks to a grilling ban, I had to resort to plan B. I instantly thought of these sandwiches.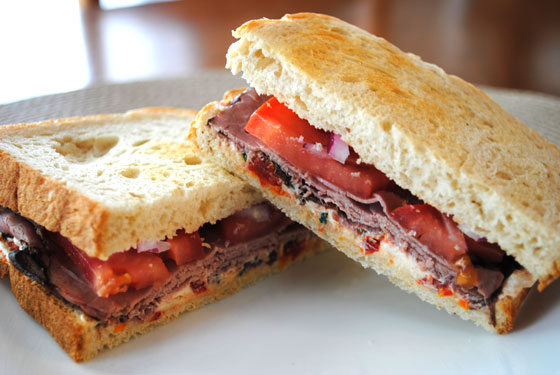 So, how's it taste?
It's a bit of work to put these together due to the homemade spread, but it's worth it and only takes a little planning ahead. Philadelphia Cream Cheese used to make a sun-dried tomato flavor and they briefly brought it back last year I think, but it's gone again. It is so good and this homemade version is pretty darn close to that, if not better. You can use dried basil, but I encourage you to use fresh. It makes a world of difference. I make my spread several hours in advance. Yes, you could whip up the spread and immediately put it on your sandwich, but you're not giving it enough time for all the ingredients to "mingle."
The sun-dried tomato spread is the stand-out in this sandwich. It's creamy with just a slight tang from the tomatoes and a big pop from the fresh basil. The garlic rounds it out. Mozzarella works so well because it won't overpower the spread and hey, that makes two cheeses in one sandwich! (I forgot the Mozzarella for the picture, but added it before I ate it!) I skipped adding the leaves of basil because I thought that would be too much, but lettuce would be a great addition to add some color.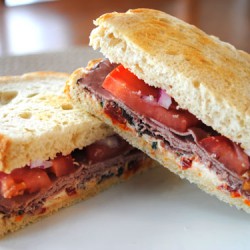 Roast Beef Sandwiches with Sun-Dried Tomato Spread
Ingredients:
Sun-Dried Tomato Spread
8 sun-dried tomatoes (not oil-packed)
1 package (8 oz.) cream cheese, softened (1/3 less fat works well, too)
2 tbsp. sour cream (light works well, too)
2 tbsp. chopped fresh basil leaves
2 cloves garlic, finely chopped, or 1/4 tsp. garlic powder
Sandwich
12 slices sourdough bread, toasted
30 thin slices cooked roast beef (20 oz.)
6 slices mozzarella cheese
12 slices tomato
Red onion rings
Lettuce, if desired
Fresh basil leaves, if desired*
*Note: The spread is pretty strong with basil, so you may not want/need to add more fresh basil leaves to the sandwich. Just depends on your taste preference.
Directions:
1. In small bowl, cover tomatoes with boiling water.* Let stand 30 minutes; drain. Chop tomatoes. In small bowl, mix all remaining spread ingredients; stir in tomatoes. Cover and refrigerate 1 hour.
2. Stir tomato spread. Spread tomato spread over 6 slices of the toasted sourdough. Layer roast beef, cheese, tomato slices, and red onion slices on top of spread; top with basil and lettuce if using. Top with remaining slices of sourdough.
*Note: You can now purchase sun-dried tomatoes in pouches, not packed in oil or completely dry. If you purchase them in the pouches, they are ready to go and you can skip the boiling water part and just chop them.