Don't be fooled by these ordinary-looking wraps. These Creamy Avocado & White Bean Wraps take eating a sandwich to a new level. A spicy, crunchy, creamy, healthy level (check out the fiber!). Anything that I can add avocado to is going to make me happy. You won't believe the flavor when that avocado is mixed with white beans, onion, and Cheddar, then topped with a crunchy, spicy slaw. Every bite I was saying "Oh my gosh this is good. This is really good!"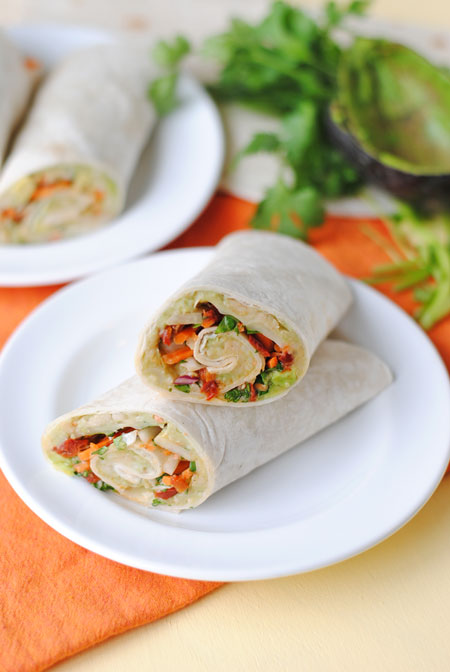 So, how's it taste?
Clearly I loved these. I knew I'd like them, I had no idea I'd love them and want to eat them pretty much every day for lunch. For a vegetarian wrap, it could really stand up against any sandwich with meat. The best part is absolutely no cooking! The hardest thing you'll do is open a can of beans. It's super simple to mash the beans and avocado together with onion and Cheddar. Then you mix the slaw ingredients, which I made easy by purchasing coleslaw mix and shredded carrots instead of shredding my own red cabbage and carrots. The coleslaw has a simple, tangy dressing that is brightened with cilantro. Make sure you use apple cider vinegar and not white vinegar. The white vinegar would be too strong in your sandwich. I also used a whole chipotle and was wishing I had added more to make it spicier!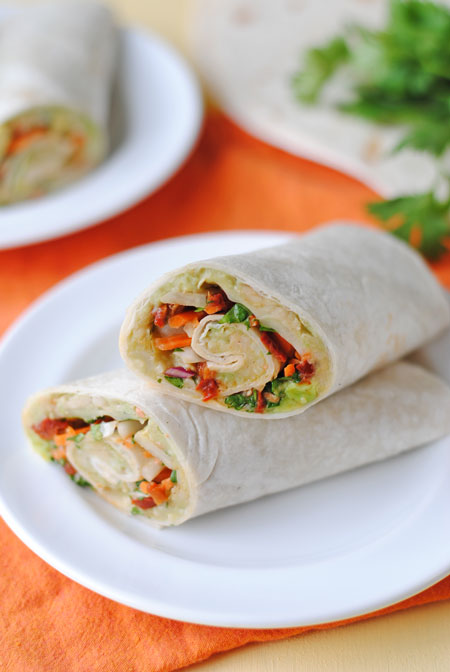 This recipe makes four wraps using one avocado, which normally I wince at because it means I'm going to waste half of an avocado or deal with its not-so-pretty brown shade. What a nice discovery when I noticed that since it's mixed with the beans and other goodies, it doesn't turn brown! Keep the avocado-bean mixture separate from the slaw mixture and make as you want to eat them. The ingredients stay fresh and nothing gets soggy or brown. This sandwich is going to be a staple in my house this summer!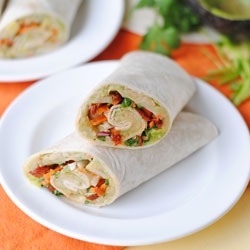 Yield: 4 servings
Total Time: 25 min
Creamy Avocado & White Bean Wraps
Ingredients:
2 tbsp. cider vinegar
1 tbsp. canola oil
2 tsp. finely chopped canned chipotle chile in adobo sauce (I used one whole chipotle plus some sauce; use more to make it spicier)
1/4 tsp. salt
2 cups shredded red cabbage (or coleslaw mix)
1 medium carrot, shredded
1/4 cup chopped fresh cilantro
1 (15 oz.) can white beans, rinsed (I used Great Northern beans)
1 ripe avocado
1/2 cup shredded sharp Cheddar cheese
2 tbsp. minced red onion (I used yellow onion)
4 (8- to 10-inch) whole-wheat wraps or tortillas
Directions:
1. Whisk vinegar, oil, chipotle chile, and salt in a medium bowl. Add cabbage, carrot and cilantro; toss to combine.
2. Mash beans and avocado in another medium bowl with a potato masher or fork. Stir in cheese and onion.
3. To assemble the wraps, spread about 1/2 cup of the bean-avocado mixture onto a wrap (or tortilla) and top with about 2/3 cup of the cabbage-carrot slaw. Roll up. Repeat with remaining ingredients. Cut the wraps in half to serve, if desired.
per serving: 346 calories, 17g fat, 44g carbs, 12g protein, 13g fiber