I have no idea what kefta is, so thank goodness for Google. In the Middle East, kefta is a food which is made by grinding meat and mixing it with an assortment of spices. The seasoned meat can be shaped into meatballs or in this case, patties, and cooked a variety of ways. So there's your culinary lesson for the day! I'm always intrigued by recipes with out-of-the ordinary combinations. That's why I had to make Beef Kefta Patties with Cucumber Salad. The burgers are seasoned with fresh herbs, ginger, and spices including cinnamon. Sounds strange right? But that kind of recipe really gets me excited.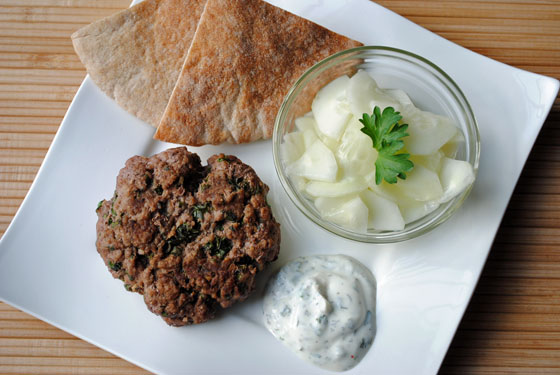 So, how's it taste?
I really wanted to be wowed by this recipe but it was just so-so for me. I enjoyed eating it but every time kept thinking that it needed something more. I'm pretty sure a lack of wow factor was partly my fault. The beef is mixed with parsley, cilantro, fresh ginger, coriander, cumin, and cinnamon. Even though I know better, I mixed the hell out of my beef to get it all incorporated. That produced a not-so-wonderful, overworked patty. I was still surprised how little flavor they had with all that good stuff mixed in. They smelled amazing while I was grilling them, but it was a bit bland in the final product. No big deal, there's still a refreshing, rice vinegar-soaked cucumber salad and creamy, herby yogurt to accompany it. Still missing pizzazz though. The rice vinegar added a nice touch and extra level of flavor to the cucumber. Not tangy like you'd think with vinegar since it's pretty mild. The two ingredients complimented each other very well. The yogurt sauce had all this stuff going for it, and was kind of lackluster, too. I salted it, I added dill, nothing made it better. Wasn't bad, but wasn't great. It's one of those low-calorie dishes that's good for the little amount of calories, but tastes like a low calorie dish. If I'm going to count calories, then they seriously need to also count in the flavor department.
All in all it wasn't bad, but I think I wanted it to taste like my favorite, calorie-laden gyro. I did find that eating it gyro-style was way better than having it separated like you see in my picture. I even went so far as to cut the patty into bite-sized pieces and mix it with the cucumber and yogurt sauce, then stuff it in a pita that I toasted. It upped the calories a bit adding an extra pita half, but it was worth it. I think if you added a bit of feta, that might push it over into the great dish category. See, I really did want it to be a gyro and it is, just it's "diet" cousin.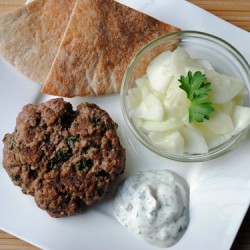 Beef Kefta Patties with Cucumber Salad
Ingredients:
Cooking spray
1 lb. ground sirloin
1/4 cup plus 2 tbsp. chopped fresh flat-leaf parsley, divided
1/4 cup chopped fresh cilantro
1 tbsp. chopped peeled fresh ginger
2 tsp. ground coriander
1 tsp. ground cumin
1/2 tsp. salt
1/2 tsp. ground cinnamon
2 cups thinly sliced English cucumber
2 tbsp. rice vinegar
1/2 cup plain fat-free Greek yogurt
1 tbsp. fresh lemon juice
1/2 tsp. freshly ground black pepper
2 (6-inch) pitas, quartered
Directions:
1. Heat a grill pan over medium-high heat. Coat pan with cooking spray. Combine beef, 1/4 cup parsley, cilantro, and next 5 ingredients (through cinnamon) in a medium bowl. Divide mixture into 4 equal portions, shaping each into a 1/2-inch-thick patty. Add patties to pan; cook 3 minutes on each side or until desired degree of doneness.
2. Combine cucumber and vinegar in a medium bowl; toss well. Combine yogurt, remaining 2 tablespoons parsley, lemon juice, and pepper in a small bowl; stir with a whisk. Arrange 1 patty and 1/2 cup cucumber mixture on each of 4 plates. Top each serving with about 2 tablespoons yogurt sauce. Serve each with 2 pita wedges.