I've had this recipe torn out of Cooking Light magazine for nine years. Nine years! I can't believe it took me this long to finally make this Rustic Grape Tart. Actually I can. I have a huge box full of loose recipes I've collected through the years and one day, one day I swear I'm going to organize them. For some reason, I recently looked through the huge box for a different recipe and set this tart recipe on my desk. Just as I was headed out to get ingredients for dinner one night, I saw the tart recipe and decided it was time!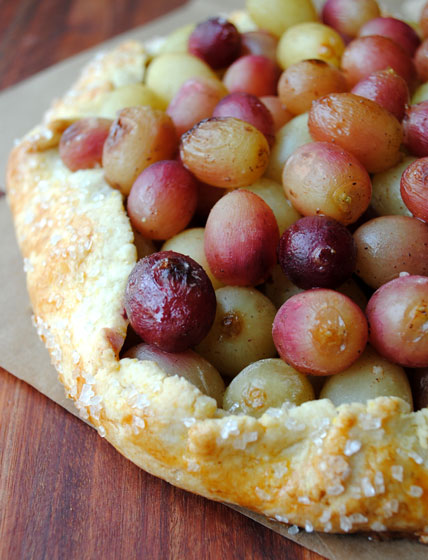 So, how's it taste?
It's really, really good. I could go on and on and on about how spectacular the crust is. It's scented with orange and is simply magnificent with the cornmeal. It's light and delicate with a slight crunch. It pairs wonderfully with the grapes inside. Yes, grapes are kind of unusual here, but they work. The red grapes are sweet and the green grapes tart. Warm grapes sound a bit gross, but they almost taste like apples in a tart like this. The tart has rich flavor, but is actually quite light. I think this recipe would work well with blueberries, too. I'd also like to try making the tart with the grapes cut in half. I think that would be pretty and would help them settle in more. My tart was piled high because my green grapes were so big! Careful when you're serving a slice, the grapes tend to roll around all over the place when it's cut. That won't stop me from making this again though.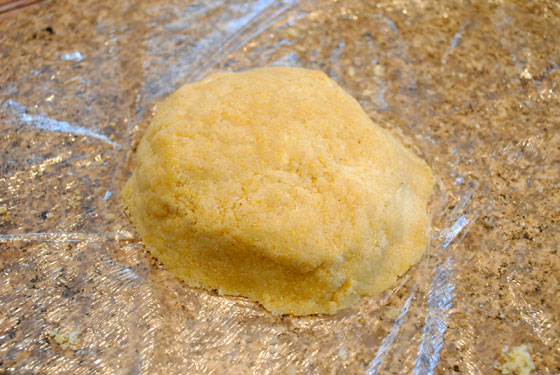 Here's the dough in a 4-inch circle, right before I wrapped it in plastic and set in the fridge to chill.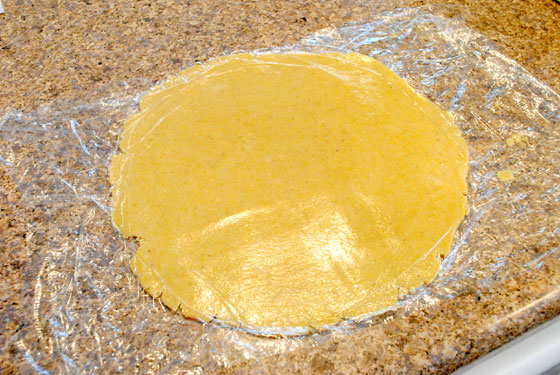 Here's the dough in the final size, an 11-inch circle. It will be pretty thin. Don't worry about a perfectly round circle with smooth edges…it's supposed to be rustic!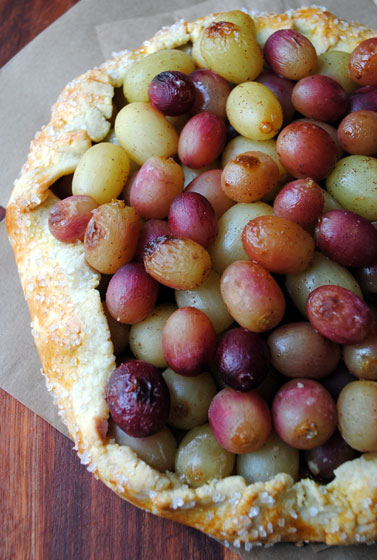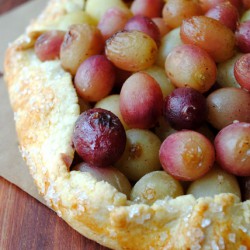 Rustic Grape Tart
Ingredients:
Crust
1 cup all-purpose flour
1/4 cup yellow cornmeal
3 tbsp. granulated sugar
1/2 tsp. baking powder
1/2 tsp. salt
1/4 cup chilled butter, cut into small pieces
3 tbsp. orange juice
Filling
2 1/4 cups seedless red grapes
2 1/4 cups seedless green grapes
2 tbsp. granulated sugar
1 tbsp. cornstarch
3/4 tsp. vanilla extract
1/4 tsp. ground cinnamon
Remaining Ingredients
1 tsp. water
1 large egg yolk
1 tsp. turbinado sugar or white coarse sugar, if desired
Directions:
1. To prepare crust, lightly spoon 1 cup flour into a dry measuring cup; level with a knife. Combine 1 cup flour, cornmeal, 3 tablespoons granulated sugar, baking powder, and salt in a food processor; pulse 4 times or until blended. Add chilled butter; pulse 6 times or until mixture resembles coarse meal. With processor on, slowly pour orange juice through food chute, processing just until blended (do not allow dough to form a ball). The dough will be crumbly.
2. Press mixture gently into a 4-inch circle on plastic wrap; cover. Chill for 15 minutes. Meanwhile, preheat oven to 400°F.
3. To prepare filling, combine grapes, 2 tablespoons granulated sugar, cornstarch, vanilla, and cinnamon; set aside.
4. Unwrap chilled dough on plastic wrap. Gather the dough and knead with your hands just until it comes together and is no longer crumbly. Place back on plastic wrap and cover dough with an additional sheet of plastic wrap. Roll dough, still covered, into an 11-inch circle. Remove top sheet of plastic wrap; place dough, plastic wrap side up, on a baking sheet lined with parchment paper. Remove plastic wrap.
5. Spoon grape mixture into center of dough, leaving a 2-inch border. Fold edges of dough toward center, pressing gently to seal (dough will only partially cover grape mixture). Combine water and egg yolk; brush over edges of dough. Sprinkle turbinado sugar over dough, if desired. Bake at 400° for 25 minutes or until crust is brown. Serve warm or at room temperature.