Some people aren't big fans of casseroles, but I am not one of them. How can you not like a one dish meal with veggies, sometimes meat, and oh that cheese! I liked the idea of a layered casserole with rice on the bottom and turkey and cheese on top, plus a big serving of this Wild Rice and Turkey Casserole is under 400 calories…did I mention all the cheese?!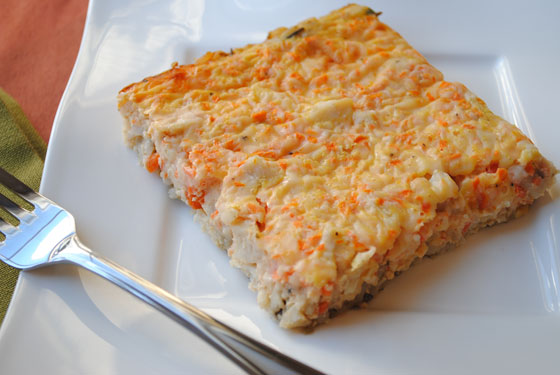 So, how's it taste?
I loved it. It's really got a lot of flavor and it's perfect for a light lunch. Easily pair this with a small salad or fruit to round out your meal. My casserole is a bit thin because I used a bigger 13×9 pan, but you can see it's still a big slice! It also turned out one color because I used all carrots in place of the red and green bell peppers from the original recipe. I'd like to make this casserole again and add broccoli or asparagus for a pop of green. You could really go crazy experimenting with all kinds of rice/veggie/cheese combinations. Using a rice mix really brings everything together, adding a lot of the flavor. I'd like to try using some of the Knorr Rice Sides and seeing how creative I can get. This casserole reminds me of a crustless quiche, which you probably could bake this in a pie crust, but there goes the low calorie count! What always gets my vote on a yummy dish, is not scrimping on the cheese or using diet cheese. There's a lot of cheese in this and it's still pretty good for you.
Update 1/15/14 – I made this dish again with some slight changes. Now that I like bell peppers, I decided to use green ones in the recipe. I upped the amount to two total cups of veggies, using 1 cup of carrots and 1 cup of green bell pepper. (Improved the color, too!) It was fantastic and really bulked out the slices. I also used fat free evaporated milk to reduce the calories even further. Tasted great!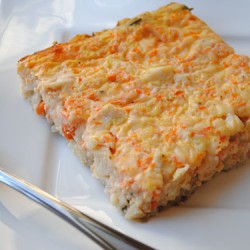 Wild Rice & Turkey Casserole
Ingredients:
2 cups long grain & wild rice mix, prepared (I use Mahatma)
2 cups diced (1/4 to 1/2 inch) cooked turkey breast (or chicken)
2 cups shredded Monterey Jack cheese (8 oz.)
1 can (12 oz.) evaporated milk
1 cup finely chopped vegetables*
2 eggs, slightly beaten
1/2 tsp. salt
1/4 tsp. pepper
1 tbsp. chopped fresh parsley, if desired
*I used carrots, but you can use red & green bell peppers, broccoli, asparagus, etc.
Directions:
1. Heat oven to 350°F. Spray 12x8- or 11x7-inch (2-quart) glass baking dish with cooking spray. Prepare the rice mix according to package directions. In baking dish, spread cooked rice evenly over bottom.
2. In large bowl, mix turkey, cheese, milk, veggies, eggs, salt and pepper. Spoon over rice.
3. Bake 45 to 55 minutes or until knife inserted in center comes out clean and top is lightly browned. Sprinkle with parsley. Let stand 5 minutes before serving.