Oh goodness is this the best chicken dish ever. Seriously. Chicken is no longer boring thanks to Chicken with Honey-Beer Sauce. I mean I thought this dish would be good, but I had no idea it would be that good. Bonus…it's low enough in calories so you can add some sides for a complete meal.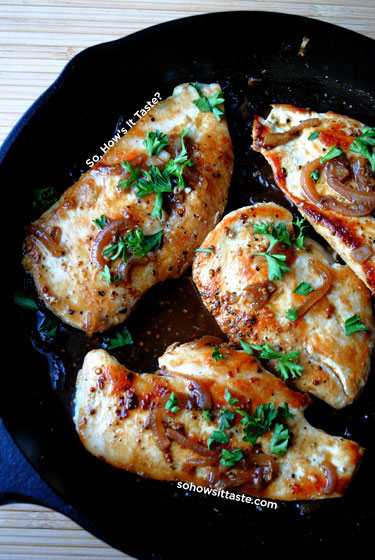 So, how's it taste?
Obviously I loved it. I loved it so so much. There's not very many ingredients, but when they come together look out! It starts with cooking the chicken and the removing it to make the sauce. The cooked "bits" left in the pan add so much flavor to the sauce. Shallots are cooked until tender, then add beer, soy sauce, whole-grain Dijon mustard, and honey. See, just a few ingredients, but oh my do they work wonders in a skillet. You can taste each ingredient, but they somehow make this new flavor that is just outstanding. I can't say enough good things about it.
A great idea for any leftover chicken, is to chop it up and serve it over a green salad. That is, if you have any leftovers. 😉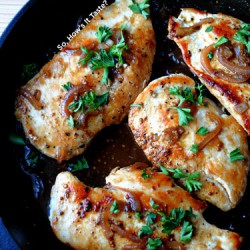 Chicken with Honey-Beer Sauce
Ingredients:
2 tsp. canola oil
4 (6 oz.) skinless, boneless chicken breast halves
1/4 tsp. freshly ground black pepper
1/8 tsp. salt
3 tbsp. thinly sliced shallots
1/2 cup beer
2 tbsp. lower-sodium soy sauce
1 tbsp. whole-grain Dijon mustard
1 tbsp. honey
2 tbsp. fresh flat-leaf parsley leaves
Directions:
1. Heat a large skillet over medium-high heat. Add oil to pan; swirl to coat. Sprinkle chicken evenly with pepper and salt. Add chicken to pan; sauté 6 minutes on each side or until done. Remove chicken from pan; keep warm. Add shallots to pan; cook 1 minute or until translucent. Combine beer and next 3 ingredients (through honey) in a small bowl; stir with a whisk. Add beer mixture to pan; bring to a boil, scraping pan to loosen browned bits. Cook 3 minutes or until liquid is reduced to 1/2 cup. Return chicken to pan; turn to coat with sauce. Sprinkle evenly with parsley.