So, it's been a week since we all pigged out on Thanksgiving. I actually did pretty good this year. I only ate one slice of pie for three days instead of two or three slices a day, lol. And I got my butt on the treadmill everyday. It kept me from gaining my usual couple of pounds and for that, I am very thankful. Now that we have a few weeks before another eating extravaganza, I thought I'd introduce you to these Raspberry Cornmeal Muffins. Look closely, they are figure friendly! I first made these for my friend Carol who was in town and being a stickler on her Weight Watchers diet. I asked her if she wanted to be good for breakfast or indulgent, and she chose good. I'm glad she did or I would have never discovered these gems.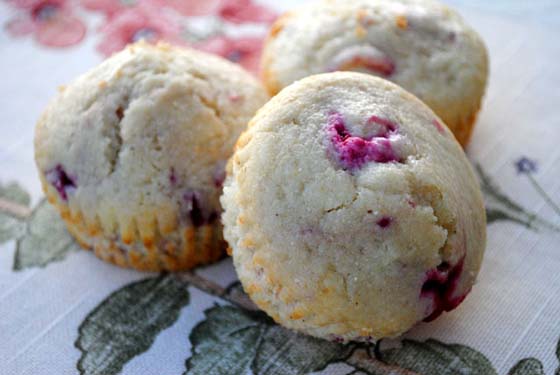 So, how's it taste?
Fab-u-lous! You would never believe this recipe is Weight Watchers. And it's so easy to whip up. Since this first batch, I have made it several times, and have substituted blueberries for the raspberries. Both versions were incredible. The real berries give a nice flavor balance to the already not-too-sweet muffins. The cornmeal adds a great texture, but don't think cornbread. They are still cakey and irresistible. Which is where you have to be careful. One muffin is a serving, so eat more than that and you're venturing into not-so-figure-friendly territory! (But I won't tell!) You may use fresh or frozen berries, but I recommend frozen. The frozen berries won't fall apart as easily when you fold them into the batter.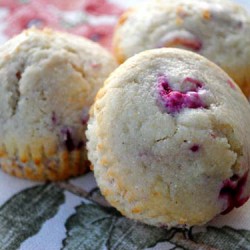 Raspberry Cornmeal Muffins
Ingredients:
1 cup all-purpose flour
3/4 cup yellow cornmeal
1/2 cup sugar
2 tsp. baking powder
1/4 tsp. salt
1/2 cup fat-free milk
1/4 cup canola oil
1 large egg, lightly beaten
1 cup fresh or frozen raspberries (or try blueberries)
Directions:
1. Preheat the oven to 425. Spray a 12-cup muffing pan with nonstick spray.
2. Whisk together the flour, cornmeal, sugar, baking powder, and salt in a large bowl; set aside. Beat the milk, oil, and egg in a small bowl. Add the milk mixture to the flour mixture, stirring just until cornmeal mixture is moistened. Gently fold in the raspberries.
3. Fill each muffin cup two-thirds full with batter. Bake until a toothpick inserted into a muffin comes out clean, 12-15 minutes. Remove the muffins from the pan and let cool completely on a rack.