Yep, you read that right. It's a ham and cheese sandwich…with apple and almond butter. Grossed out? I know it sounds extremely weird, and y'all know how I like the odd recipes, but this Apple, Almond, Cheddar, & Ham Sandwich isn't all that weird, it's delicious! The October issue of Cooking Light had a spread (ooo, pun!) about nut butters being more than just part of PB&J's. They took a different kind of nut butter and paired it with unusual ingredients to make a sandwich. This one is the almond butter version. I was so intrigued, that I had to make it.
So, how's it taste?
I absolutely loved it! Their version added lettuce, but I didn't think that was necessary since you get a fresh crunch from the apple. I used a honeycrisp, and it's perfect for this. Sweet and tart apple, sweet and nutty almond butter, sharp Cheddar, and savory ham. I really can't explain why, but it just works. It makes quite a hearty sandwich, too. I don't really eat this with chips or any side because it's so filling.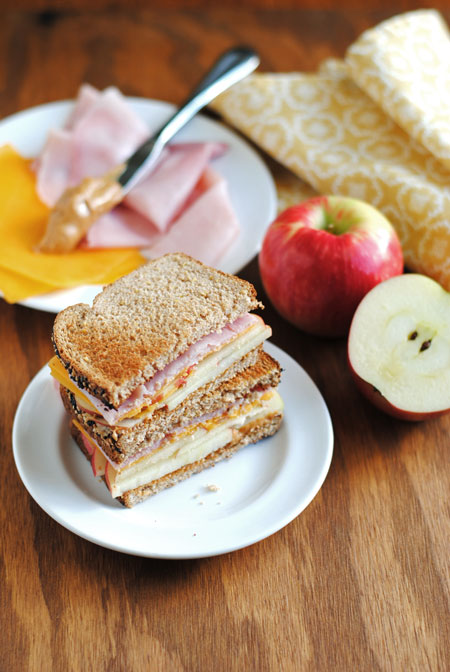 Want to know the real reason I wanted to make this sandwich? Four words: Publix. Deli. Online. Ordering. This is the best thing to ever happen to grocery shopping. Publix's tagline is "where shopping is a pleasure" and that couldn't be more true. (This isn't a sponsored post.) I freakin' love this grocery store and then they went and made it even more awesome. Order your deli items online where you can specify thickness of slice, etc. You pick the time you want it ready and when you arrive, it's in this little fridge with your name on it and you get to bypass those poor suckers waiting in line. You don't have to talk to anyone! Plus – I've discovered you can put anything in the "name" field. Time to have a little fun with that! 🙂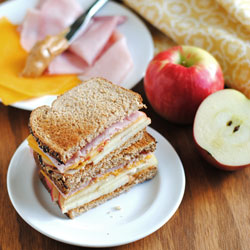 Apple, Almond, Cheddar, & Ham Sandwich
Ingredients:
2 (1 oz.) whole-grain bread slices
1 tbsp. unsweetened almond butter
1/4 cup thin sliced apple (I used honeycrisp)
1 (1/2 oz.) thin sliced sharp Cheddar
1 oz. lower-sodium deli ham
Directions:
1. Toast bread in toaster or toaster oven to desired level. Spread half of almond butter on one side of each bread slice.
2. Layer one slice with apple, cheddar, and ham. Top with remaining bread slice, almond butter side down.
per sandwich: 328 calories, 16g fat