I bookmarked this recipe not too long ago and finally put it on my grocery list. I hesitated buying the ingredients at the grocery store because I thought they were too simple and this soup wouldn't have enough flavor to taste good. But standing in the middle of the grocery store wasn't the time to research a new low calorie meal to go in its place. Lucky for me this Cheesy Spinach Soup turned out pretty fantastic.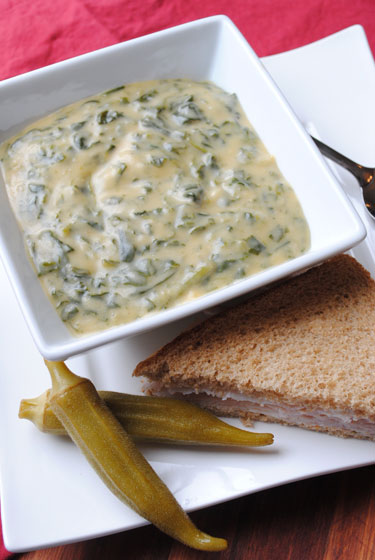 So, how's it taste?
It takes like spinach cheese dip. Did you read that folks? Tastes. Like. Spinach. Cheese. Dip. I was so wrong about the simple ingredients not adding up to much flavor. It's thick and gooey with cheese and full of good-for-you spinach. Now if you're a texture person and you don't like cooked spinach, this is not the soup for you. I don't want to say the spinach is slimy, but it's close. It didn't bother me in the least. I couldn't shovel this soup into my mouth fast enough. I even dipped my sandwich in it! (Yes, that's also pickled okra you see on the plate, my new obsession!) It makes four big bowlfuls and is less than 300 calories per serving. The fat grams are a little high, so it's not exactly a perfect choice if you count how many calories are from fat, but I don't look at that all the time. All that matters to me is that it's low in calories and it's full of cheese. It also freezes well, but I doubt it will stick around long enough for you to freeze it.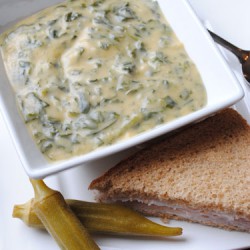 Cheesy Spinach Soup
Ingredients:
1 (14 oz.) can reduced-sodium chicken broth (or vegetable broth for vegetarian)
1 (10 oz.) package frozen chopped spinach
1 tsp. onion powder
1 (12 oz.) can fat-free evaporated milk
3 tbsp. all-purpose flour
2 (8 oz.) cups shredded Sharp Cheddar cheese
salt & pepper to taste
Directions:
1. In a medium saucepan, combine broth, spinach, and onion powder. Bring to a boil. Reduce heat to low; cover and simmer 5 to 7 minutes or until spinach is thoroughly cooked.
2. In a small bowl, combine milk and flour; blend until smooth. Add to soup; cook and stir over medium heat until bubbly and thickened.
3. Reduce heat to low; simmer 2 minutes. Add cheese; cook and stir until cheese is melted and soup is thoroughly heated. Season with salt and pepper to taste.