Switched gears on ya big time, didn't I? I think I've given you enough sweets to keep you busy baking in the kitchen for a bit! Now, I'm getting back around to the rest of the yummy eats we had at our Thanksgiving table. Remember those pork loin chops? And the peas and corn with bacon? These Buttermilk Chive Mashed Potatoes joined them on our plates. I mean what's a Thanksgiving without mashed potatoes, right?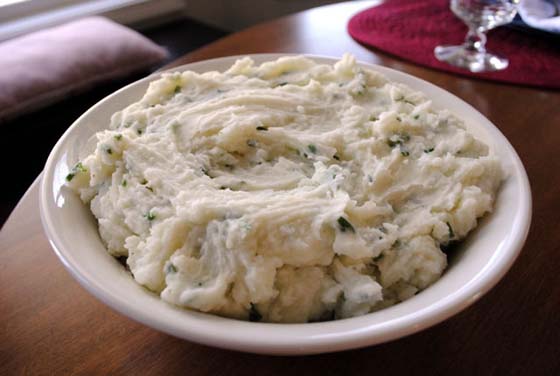 So, how's it taste?
I stumbled upon this recipe when I waltzed into Williams-Sonoma and picked up their flyer. They always have such good recipes (and gadgets!) in there. I knew right that second I had my mashed potatoes. We pretty much make some kind of potato every year, so I like to change the flavors to keep it interesting. These mashed potatoes were so good and creamy. Believe it or not, the picture you see is half the recipe! It makes a ton. The half-and-half adds a touch of richness and the tang from the buttermilk was really subtle. The chives provided that hint of onion in the background. I added just a bit more of the liquids to make my potatoes the consistency I like. As with any mashed potato recipe, it's a "to taste" dish and a nice change from the usual salt, milk, and butter version.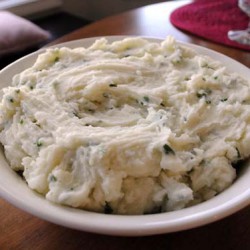 Buttermilk Chive Mashed Potatoes
Ingredients:
5 lb. russet potatoes, peeled and cut into 2-inch pieces
2 tsp. kosher salt, plus more, to taste
3/4 cup buttermilk
1/2 cup half-and-half
8 tbsp. butter, cut into small pieces
3/4 cup finely chopped fresh chives
ground pepper, to taste
Directions:
1. Put the potatoes in a large pot. Add 2 tsp. salt and enough water to cover the potatoes by 3 inches. Bring to a boil over med-high heat, reduce the heat to med-low and simmer until the potatoes are tender when pierced, 15-20 minutes. Drain well.
2. In a small saucepan over medium heat, combine buttermilk and half-and-half and heat until just warm. Set aside. Set a potato ricer or food mill over the pot and pass the potatoes through in batches. Add the butter, then gradually add the buttermilk mixture, stirring constantly with a large wooden spoon until the potatoes are smooth and creamy. Stir in the chives an season with salt and pepper. Serves 8 to 10.