Hey look! It's another potato recipe! Who can ever decide between potatoes and sweet potatoes? Well, if it's the holidays, then I say don't bother. We have both. I'm the kind of girl that could order a veggie plate and it have a baked potato, fries, potato salad, potatoes au gratin, etc. and be perfectly content with my meal. So, when mom suggested this Sweet Potato Pecan Casserole I was all for it. And guess what? It's a healthier version from the usual! Score!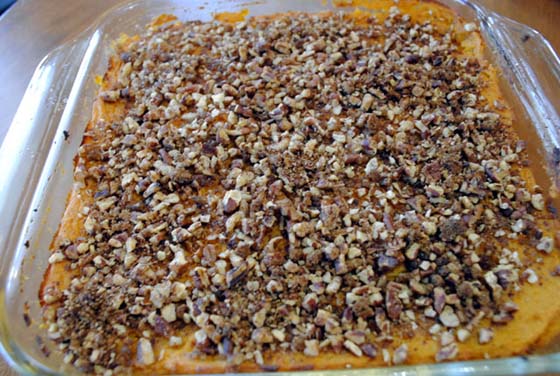 So, how's it taste?
I couldn't believe how tasty it was considering it was the lighter cousin of what I'm used to eating. It was really, really flavorful. I might even go so far as to say I like it the best! And now the mind-blowing part…there's not an ounce of butter in it. The honey and spices make it so good. It was nice to really taste the potatoes instead of all that butter. The pecan and brown sugar topping add just a hint of richness and make this dish special.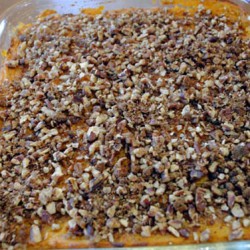 Sweet Potato Pecan Casserole
Ingredients:
Cooking spray
3 1/2 pounds sweet potatoes (about 5 medium), peeled and cut into 1-inch chunks
1/3 cup honey
1 large egg
1 tsp. ground cinnamon
1/4 tsp. ground nutmeg
1/8 tsp. ground ginger
Kosher salt
1 tablespoon packed dark brown sugar
1/3 cup finely chopped pecans
Directions:
1. Preheat the oven to 350 degrees F. Mist an 8-inch square baking dish with cooking spray.
2. Bring a few inches of water to a boil in a pot with a large steamer basket in place. Put the sweet potatoes in the basket, cover and steam until tender, 20 to 25 minutes. Transfer the potatoes to a bowl and let cool slightly. Add the honey, egg, 1/2 teaspoon cinnamon, the nutmeg, ginger and 1/2 teaspoon salt; whip with an electric mixer until smooth. Spread the sweet potato mixture in the prepared baking dish.
3. Mix the brown sugar, pecans and the remaining 1/2 teaspoon cinnamon in a bowl; sprinkle over the potatoes. Bake until hot and beginning to brown around the edges, 40 to 45 minutes.