Hey strangers! Whew, it has a been way too long since I last posted. (whispers :: last June). I meant to take a short hiatus, really I did. But you know that saying, "life happens when you're planning?" It sure does.
Last June I was burned out of blogging. It's a lot of work, and well, I just wanted to cook and bake and not have to worry about the perfect photo shoot. I wanted a hot meal for a change! Then life started happening. I got Invisalign, had surgery twice (one planned, one not so much), lots of work changes, Bama lost the national championship, this White House cluster, and the list goes on. I'll admit I just got too comfortable not blogging.
The eating and cooking and baking did not stop though. I needed a break to just be in the kitchen. To remember why I started blogging in the first place. It's because I love food. Food is comforting, food is social, food is delicious. And food should be shared. So here I am, dusting off the ol' keyboard.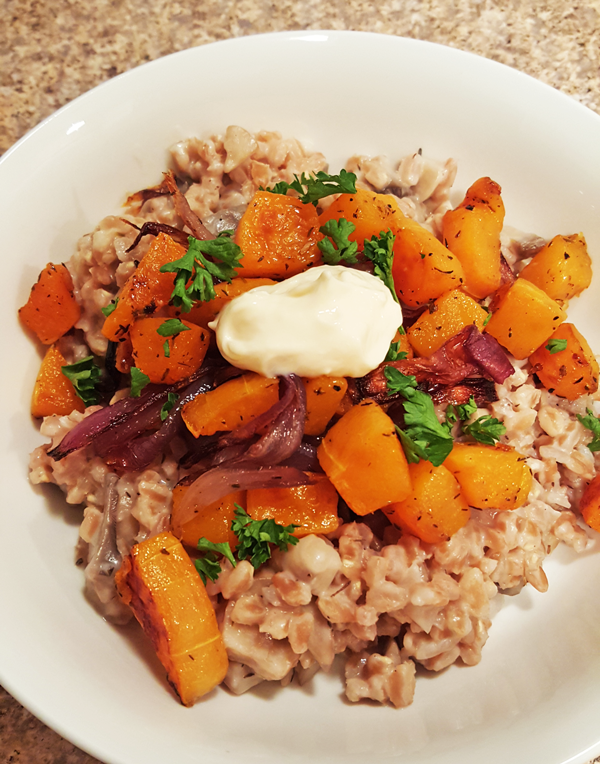 Speaking of comfort food, I thought I'd share this Farro with Brie and Squash recipe with you as my first recipe back. I've made this dish once before and I don't know why I don't keep it on regular rotation. It's warm and comforting, and I love the bright colors from the squash, red onions, and parsley. Plus hello, roasted veggies are the best. The creamy brie adds decadence without going overboard and making the dish too rich. Chicken or pork would work well in this if you needed to add meat, but this is one of my all-time favorite vegetarian dishes.
I hope you enjoy it! Thanks for continuing to hang out in this space. It feels good to be back. 🙂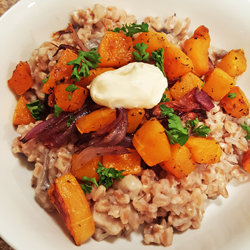 Yield: 4 servings
Total Time: 40 min
Farro with Brie and Squash
Ingredients:
2 red onions
3 tbsp. extra-virgin olive oil, plus more for drizzling
8 oz. sliced cremini mushrooms
2 tsp. chopped fresh thyme
Kosher salt and freshly ground pepper
1 1/3 cups farro
1/4 cup dry white wine
1 lb. cubed peeled butternut squash (about 4 cups)
3 oz. brie cheese, rind removed and cubed, plus thin slices for topping*
1/2 cup chopped fresh parsley
*Note: I don't like eating the rind of brie and I'm too lazy to remove it, so I buy the little tubs of brie that come without it. Not as authentic, but much easier to work with if you don't like the rind.
Directions:
1. Preheat the oven to 450 degrees F. Mince 1/2 red onion; cut the remaining 1 1/2 onions into 1/2-inch-thick wedges and set aside. Heat 1 tablespoon olive oil in a large pot or Dutch oven over medium-high heat. Add the minced onion, mushrooms and 1 teaspoon thyme; season with salt and pepper. Cook, stirring, until the vegetables are tender, about 5 minutes.
2. Add the farro to the pot and cook, stirring, until toasted, about 1 minute. Add the wine and cook, stirring, until evaporated, 1 to 2 minutes. Add 5 cups water; bring to a boil. Reduce the heat to maintain a simmer and cook until the farro is tender and the liquid is mostly absorbed, 25 to 30 minutes.
3. Meanwhile, combine the onion wedges, butternut squash and the remaining 2 tablespoons olive oil and 1 teaspoon thyme in a large bowl; season with 1/2 teaspoon salt and a few grinds of pepper and toss. Spread on a rimmed baking sheet. Roast until the vegetables are tender and browned, about 25 minutes.
4. Add the cubed brie to the farro; stir until creamy. Stir in the parsley. Top each serving of farro with the vegetables and a slice of brie.
per serving: 460 calories, 20g fat, 58g carbs, 8g fiber, 15g protein