I have a pretty decent collection of dieting cookbooks, and every now and then I luck out with a recipe that is so good, it's hard to believe it's figure-friendly. And I know it's good when I find myself making it whether I'm trying to lose a few pounds or not. This is where Tilapia with Chili Cream Sauce comes in. Tilapia is my absolute favorite fish. It's so mild that it goes with almost any flavor. It pairs very nicely served over a bed of black beans and rice, topped off with this hard-to-believe-it's-low-cal chili cream sauce.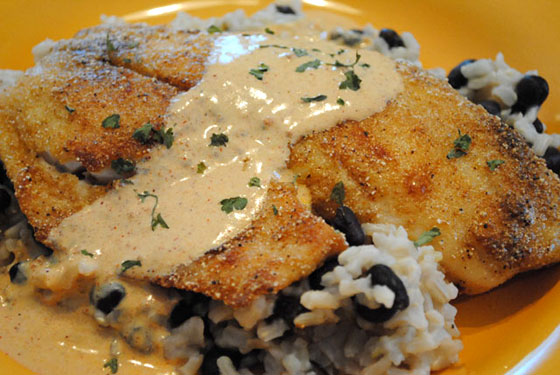 So, how's it taste?
Have I mentioned this is diet food? The cream sauce, yes I said cream sauce, is fantastic. There's really not much flavor to the fish, so the entire dish depends on the sauce. And it comes through big time. It's very rich, even made with fat-free half-and-half, and has a nice smoky flavor from the cumin. Coating the fish with cornmeal is a nice contrast to the creaminess. The southwest flavors also blend well with the beans and rice. This meal is so quick to prepare, yet nice enough to serve to guests. Little do they know, they're eating healthy!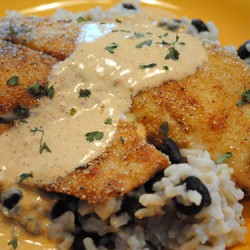 Tilapia with Chili Cream Sauce
Ingredients:
1 pound fresh or frozen tilapia, 1/2 to 1 inch thick
2 tbsp. cornmeal
2 tbsp. all-purpose flour
nonstick cooking spray
1 tsp. cooking oil
2 tsp. butter or margarine
2 tsp. all-purpose flour
1 tsp. chili powder
1/4 tsp. salt
1/4 tsp. ground cumin
3/4 cup fat-free half-and-half
2 tbsp. fresh parsley or cilantro (optional)
lime slices (optional)
Directions:
1. Thaw fish, if frozen. Rinse fish; pat dry. Cut into 4 serving-size portions. Stir together cornmeal and the 2 tablespoons flour. Sprinkle over both sides of fish. Lightly coat a 12-inch nonstick skillet with cooking spray. Add oil to skillet. Heat over medium-high heat. Add fish. Cook fish over medium to medium-high heat for 2 to 3 minutes per side or until fish flakes easily when tested with a fork. Remove fish from skillet. Keep warm.
2. Melt butter in the same skillet. Stir in the 2 teaspoons flour, chili powder, salt, and cumin. Stir in half-and-half. Cook and stir until thickened and bubbly. Cook and stir for 1 minute more. To serve, spoon sauce over fish. If desired, sprinkle with parsley, garnish with lime slices.