In my last post, I shared with you an entire meal that came in around 420 calories. Usually the main dish is the star of the show, and while I loved the flavor of the Baked Sage Breaded Pork Chops, what I went crazy over was the corn. Yep, corn. Back when I lived with my mom, we used to joke about having corn with every meal because she always had a bag of frozen corn in her freezer. But this isn't your ordinary corn side dish. It's Creamy Corn with Chives and it completely took center stage on my plate! Have you ever munched on a few bites of part of your dinner while waiting on the rest to finish cooking? That was me with this corn. I almost ruined my dinner because I ate so much of it. It was that good!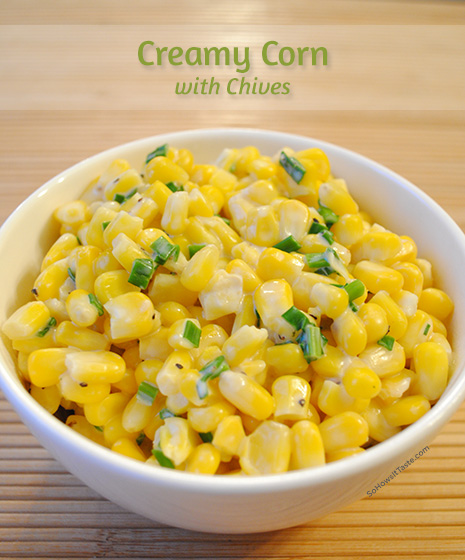 So, how's it taste?
Clearly I enjoyed it. I mean really, really enjoyed it. I am a sour cream junkie, so I don't know why it never occurred to me to try it with corn. This dish is so ridiculously simple. I've made it several times recently and I just may never eat dinner without it again. It's frozen corn, light sour cream, fresh chives, garlic pepper, and salt. That's it. It's the most magical combination of ingredients in the history of side dishes. The corn is crunchy and slightly sweet, then you get the tang of the sour cream and that's where it gets the creaminess. The chives work with sour cream so well with that subtle hint of onion. The garlic pepper blend and salt are the finishing touches. The good news is that it's figure-friendly. The bad news is that you'll have a hard time sticking to just one serving!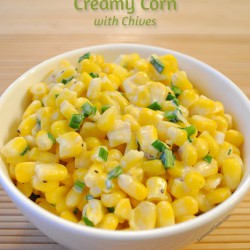 Yield: 4 servings
Prep Time: 10 min
Creamy Corn with Chives
Ingredients:
2 cups frozen sweet corn
2 tbsp. chopped fresh chives
1/4 tsp. salt
1/4 tsp. garlic pepper blend
2 tbsp. light sour cream
Directions:
1. In medium saucepan or microwave-safe dish, cook corn as directed on package. Drain; return to saucepan.
2. Add all remaining ingredients; toss to coat. Heat just until thoroughly heated.
per 1/2 cup serving: 70 calories, 2g fat, 11g carbs, 2g fiber, 2g protein