Nashville weather has been a little wacky lately. We go from hot to fall-like temperatures back to hot in 24 hours. Last week we had a few days of nice, cool weather so over the weekend I decided to get out my slow cooker and make soup. I couldn't wait any longer. I love using my slow cooker because it's easy and makes the house smell delicious all day. This Black-Eyed Pea & Sausage Soup hits the spot on those chilly days and the leftovers have been the perfect meal during the few rainy days of this week.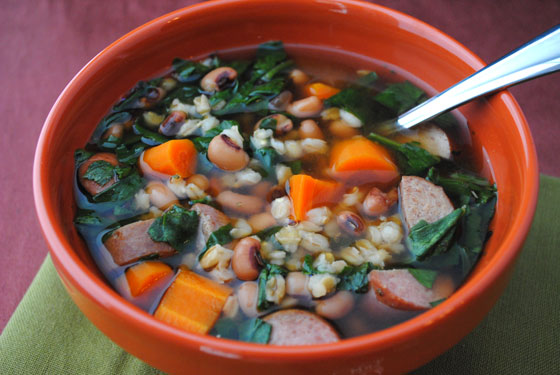 So, how's it taste?
This was such a fantastic bowl of comfort food. Normally I get sick of soups pretty quickly, but I looked forward to every bowl of this one. It's a shorter cooking time than most meals in the slow cooker, but the only ingredient that really has to cook is the barley. I couldn't find wheat berries, so I used barley and it worked great. You could pretty much use any hearty grain you like. Farro would work well, too. I love the colors in this soup. The carrots really stand out against the peas and the barley, and the flecks of green throughout from the spinach are so pretty. I added more spinach than the recipe called for just to make the soup even more heartier. I think I added about half a bag! This soup is definitely filling.
I know it sounds odd, but trust me on the optional flavor additions before serving. The horseradish and Dijon mustard add an unbelievable boost. You will LOVE it. I added a teaspoon of each to start, but you could add more or less to your liking. I liked it so much, I think I'll add more to my next serving. This soup would also be great with a big piece of bread dunked into it!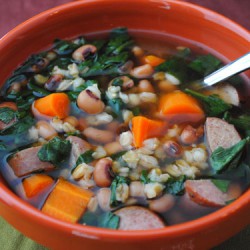 Black-Eyed Pea & Sausage Soup
Ingredients:
2 cans (15 to 16 oz. each) black-eyed peas, drained, rinsed
14 oz. smoked turkey kielbasa sausage, cut lengthwise in half, then sliced crosswise
4 medium carrots, chopped (2 cups)
4 cloves garlic, finely chopped
1/2 cup uncooked wheat berries or barley
1 cup water
3 cans (14 oz. each) reduced-sodium beef broth
2 cups shredded fresh spinach
1 tsp. dried marjoram leaves
2 tbsp. prepared horseradish, optional
2 tbsp. Dijon mustard, optional
Directions:
1. In 3- to 4-quart slow cooker, mix all ingredients except spinach and marjoram.
2. Cover and cook on low heat setting 5 to 6 hours or until wheat berries are tender.
3. Stir in spinach and marjoram. Cover and cook about 15 minutes or until spinach is tender.
4. To serve, add 1 teaspoon each of horseradish and mustard to individual bowls of soup, if desired.