If you're looking for a hearty meal during these colder days, look no further. Pot Roast with Sour Cream Horseradish Sauce is it. It's prepared in the slow cooker, so that means dinner is a cinch. It's not your usual pot roast, as it has a twist from the sour cream horseradish sauce. It's so good, I drenched every serving in it. It's great for sopping up with bread…which I don't recommend doing in public, but it's perfectly fine behavior at home.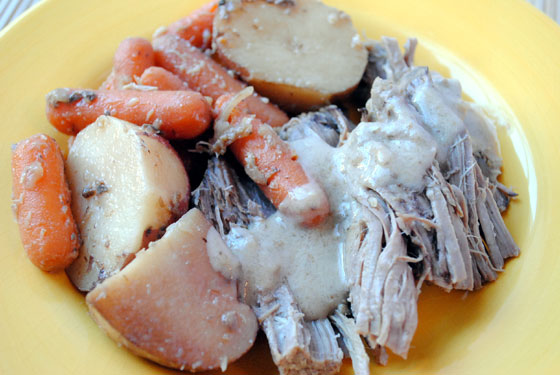 So, how's it taste?
I let my pot roast cook for almost 10 hours. I wanted the beef to fall apart and get really tender. Cook it for 8 hours if you prefer slicing it. Don't be afraid of the horseradish. After that long in the slow cooker, it's a fabulous flavor and not the sinus-opening root you're used to. I was surprised that the onion soup mix wasn't the predominant flavor. The soup mix, cream of mushroom soup, and horseradish blend beautifully into this gravy that is unbelievable. I wasn't kidding when I wrote that I drenched each serving in it. The sour cream is mixed into the juices from the slow cooker at the end making a gravy that's tangy and rich, but not very thick. I used the healthier, lower calorie cream of mushroom soup and low fat sour cream in my dish to reduce the calories a bit. Didn't hurt the flavor at all!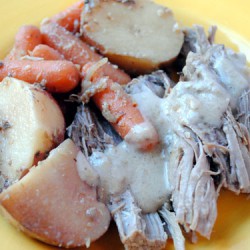 Pot Roast with Sour Cream Horseradish Sauce
Ingredients:
3 lbs. beef boneless chuck roast
1 lb. baby-cut carrots
6 small red potatoes, cut in half
2 dried bay leaves
1 jar (5 oz.) prepared horseradish, well drained (1/2 cup)
1 envelope (1 oz.) onion soup mix (from 2 oz. package)
1 can (10 3/4 oz.) condensed cream of mushroom soup (can use Healthy Request version)
1/2 cup sour cream (can use low fat)
Directions:
1. If beef roast comes in netting or is tied, remove netting or strings. In 5- to 6-quart slow cooker, place carrots, potatoes, and bay leaves. Rub horseradish over beef; place beef on vegetables. Sprinkle with dry onion soup mix. Pour mushroom soup over all.
2. Cover and cook on low heat setting 8 to 10 hours. (Cook for 8 hours to slice the pot roast. Cook for 10 hours and it can easily be pulled into pieces using two forks.)
3. Remove beef from cooker; place on cutting board. Cut beef across grain into 1/4-inch slices or use 2 forks to pull beef into serving pieces. Remove and discard bay leaves. Remove vegetables from cooker with slotted spoon. Place beef on serving platter with vegetables. Stir sour cream into cooking juices in cooker with wire whisk. Serve sauce over beef.