If you're a big fan of pasta, but indecisive on the topping like I am, you're going to love Linguine with Two Sauces. I was intrigued by the name alone, wondering how you can have two sauces on pasta without it mixing together. I like creamy, cheesy sauces, but also like the classic tomato-based sauces, too. This dish combines both, with a pretty tasty outcome.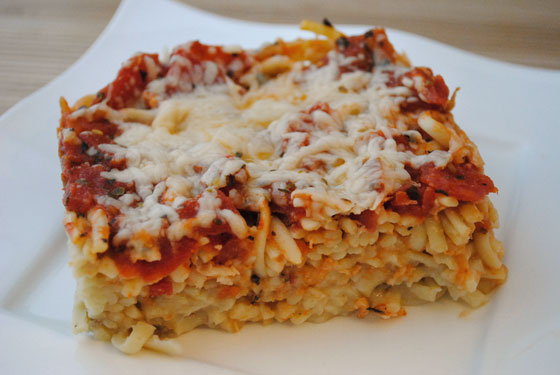 So, how's it taste?
I was drooling over my saucepan while I was making the cheese sauce. I really wanted to pause, grab a piece of bread, and dip it right in the pan. Once the Swiss hit the flour/milk mixture, I couldn't wait for the end result. At the same time, the tomato sauce was simmering. Pure pasta heaven happening right there on my stove. The cheese sauce is tossed with linguine and mushrooms and then is poured into a baking dish and covered with the tomato sauce. Then top the whole thing with cheese. Mmm, mmm! I liked how this turned into a casserole and not a pile of pasta on my plate.
While I inhaled my serving and really enjoyed it, I wish the cheese sauce had a little more pizzazz to it. If you got a bite of the cheese sauce without a bite of tomato with it, it was kind of plain. Maybe a spice or herb of some sort would help. The tomato sauce isn't thick as it's basically the juice from the tomatoes, so I wonder if a thicker tomato sauce would do the trick to add a touch more flavor? I'll have to experiment with this one, but at 350 calories a serving (and it's a big serving!) it's not so bad as is.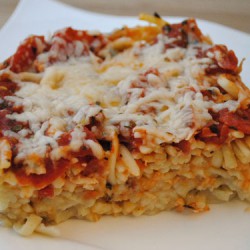 Linguine with Two Sauces
Ingredients:
2 tsp. olive oil
2 garlic cloves, minced
1 tbsp. chopped fresh or 1 tsp. dried basil
3/4 tsp. pepper, divided
1/2 tsp. salt, divided
2 (14.5-oz.) cans Italian-style diced tomatoes, undrained
Cooking spray
4 cups sliced cremini or button mushrooms (about 12 oz.)
1/2 cup all-purpose flour
2 cups 1% low-fat milk
1 cup (4 oz.) shredded reduced-fat, reduced-sodium Swiss cheese
1/2 cup dry white wine
8 cups hot cooked linguine (about 1 lb. uncooked pasta)
1/4 cup grated fresh Parmesan cheese
Fresh oregano sprigs (optional)
Directions:
1. Preheat oven to 350F.
2. Heat oil in a nonstick skillet over medium heat. Add garlic; sauté 30 seconds. Add basil, 1/4 teaspoon pepper, 1/4 teaspoon salt, and tomatoes; cook over low heat 20 minutes, stirring occasionally. Set aside.
3. Place a large saucepan coated with cooking spray over medium-high heat until hot. Add mushrooms, and cook 5 minutes. Remove from saucepan, and set aside. Add flour to saucepan. Gradually add milk, stirring with a whisk until blended. Place flour mixture over medium heat, and cook until thick (about 3 minutes), stirring constantly. Stir in Swiss cheese, wine, 1/2 teaspoon pepper, and 1/4 teaspoon salt. Cook until cheese melts (about 1 minute), stirring constantly. Remove from heat, and stir in mushrooms.
4. Combine linguine and mushroom sauce in a large bowl. Spoon linguine mixture into a 13 x 9-inch baking dish coated with cooking spray. Spread tomato sauce evenly over the linguine mixture, and sprinkle with Parmesan cheese. Cover and bake for 20 minutes. Uncover and bake an additional 5 minutes. Garnish with oregano sprigs, if desired.