I'm so excited to share this recipe for Steak House Side Mac & Cheese with you. I've made it twice already because I enjoyed it so much. It's an interesting concept. Take macaroni and cheese, add in all the ingredients you'd normally find as a side in a steak house, and ta da! New twist on a classic. It's got bacon, blue cheese, sauteed mushrooms, and spinach to mimic creamed spinach. How could I not give this a try? Plus you know how I feel about bacon and when that's involved and it's still a low calorie dish…where do I sign?!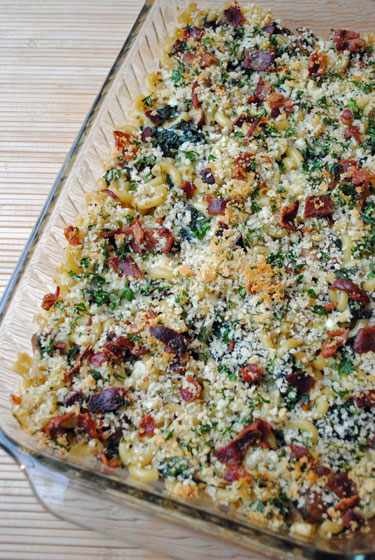 So, how's it taste?
You know I'm really digging a dish when I make it back to back. That's how this macaroni and cheese was for me. This isn't going to be like the classic stuff that's ooey and gooey with cheese dripping off your fork. If you're expecting that, you'll be disappointed. This is a different kind of mac & cheese. Even though the entire dish has only three slices of bacon, it's super bacony. The mushrooms are cooked in the bacon drippings, so even though it's low calorie, you're getting some good stuff. I'm a big fan of blue cheese, so with the bacon and the mushrooms and the spinach I just loved it! It's only four ounces of cheese in the entire batch, but the blue cheese is so strong that it works. It truly is quite decadent and I almost don't believe it's low calorie.
The recipe calls for reserving two tablespoons of the bacon grease, but I found my first batch was too greasy, so I only used one tablespoon in the second batch and that worked much better. I had a hard time finding 10 ounces of mushrooms and 10 ounces of spinach, so my first batch (in the picture) is a little skimpy in that area. For my second batch, I used 12 ounces of mushrooms and 12 ounces of spinach since that is how my grocery sells it. Increasing the amounts slightly didn't change the dish. I liked it better actually with more bulk and those two ingredients don't up the calorie count much. I skipped oiling the glass dish and used cooking spray and only used two teaspoons of the oil for the topping. Both turned out fine and reduces the calories as well.
I did learn that baby bella mushrooms work best over white button mushrooms. My first batch had baby bellas and they have so much more flavor and hold up better to sauteing. I also found that white button mushrooms have a ton of moisture in them, so when my mushrooms cooked down, there was a lot of liquid in my pan and my second batch was slightly too runny. The first batch was slightly too dry, but I didn't add as much of the extra cooking liquid from the pasta as I should have. The second batch had the liquid from the mushrooms plus I added the extra cooking liquid. My advice is to not use the white button mushrooms and add the extra cooking liquid in increments. You should have a bit of liquid when you pour the mixture in the dish, but not enough that you could spoon out.
The last adjustment I made was to increase the parsley. I love fresh parsley so I ended up topping both batches with about 1/4 to 1/3 cup of it instead of two tablespoons. Give this dish a try if you're a steak house fan. You won't regret it, although I can't promise you won't be craving a steak with it!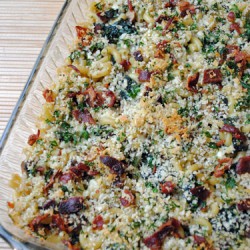 Steak House Side Mac & Cheese
Ingredients:
4 tsp. olive oil, divided
2 tsp. salt
8 oz. uncooked whole-wheat or regular macaroni
3 bacon slices
10 oz. mushrooms, quartered
1/4 tsp. freshly ground black pepper
2 garlic cloves, minced
10 oz. fresh baby spinach
1/4 cup plain 2% Greek yogurt (I used fat free)
4 oz. blue cheese, crumbled (I used reduced fat)
1/2 cup whole-wheat or regular panko (Japanese breadcrumbs)
2 tablespoons chopped fresh parsley
Directions:
1. Preheat oven to 400°.
2. Coat 2-quart glass or ceramic baking dish (I used a 9x13) with 1 teaspoon oil (I used cooking spray instead). Set aside.
3. Bring a large saucepan of water to a boil; add salt and pasta. Cook for 6 minutes or until just barely tender. Drain pasta in a colander over a bowl; reserve 1 cup cooking liquid.
4. Cook bacon in a large skillet over medium heat until crisp. Remove bacon from pan, reserving 2 tablespoons drippings in pan (I found reserving 1 tablespoon works better - less greasy); crumble bacon. Add mushrooms to drippings in pan; cook for 8 minutes or until browned, stirring occasionally. Add pepper, garlic, and spinach (in batches); cook 3 minutes or until spinach wilts, tossing occasionally.
5. Combine yogurt and cheese in a large bowl, stirring until almost smooth. Add pasta and mushroom mixture; toss to combine. Stir in 1/2 cup reserved cooking liquid (or more if mixture looks dry). Spoon pasta mixture into prepared dish. Combine crumbled bacon, panko, and parsley. Drizzle with remaining 3 teaspoons oil (I used 2 teaspoons); toss to combine. Sprinkle evenly over top of pasta. Bake at 400° for 20 minutes or until golden and bubbly.