You know I have never cooked with tomatillos. Never. How have I gone this long without doing that? Maybe that's why when I was flipping through the latest Southern Living, I stopped on this recipe for Chicken & Three Bean Chili Verde. I really wanted to make my Taco Soup, but thought this would be a good change of pace while satisfying my chili craving. Let me tell you it wowed me. I loved the change from a red sauce to the green. A good thing since this recipe makes enough to feed everyone and their brother! It freezes very well, so now I'm set whenever that chili craving hits again.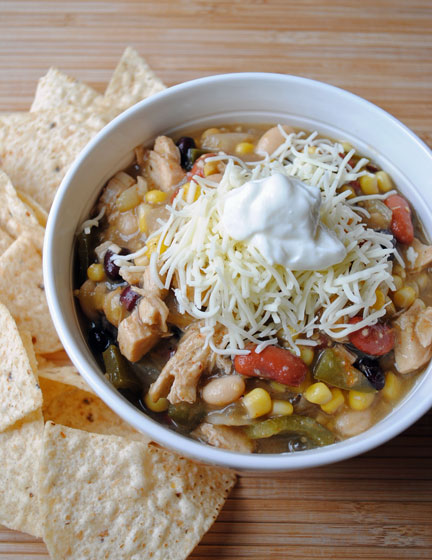 So, how's it taste?
What really stood out to me is that even though it's a hearty bowl of chili, it has such a clean, refreshing taste. The tomatillos make a really nice base that is thinner than a red chili. I also really like how chunky it is. Chunks of chicken, onion, peppers, corn, and all those beans. It's so stinkin' good! The finishing touch is the bit of lime juice. It changes the whole game. It enhances the entire dish, but it isn't enough to make you pucker. I think the lime is what gives it that clean taste.
I topped my servings with sour cream, cheese (Jack and Cheddar), and avocado and then dipped tortilla chips in it. It was almost like I was eating a super yummy dip and not chili. I was worried I'd get tired of eating it since it makes so much and even though I froze most of it, I look forward to those leftovers! This is a great recipe to make and then have leftovers in the freezer for when you want a great meal, but don't feel like cooking.
Chicken & Three Bean Chili Verde
Ingredients:
Chili
3 lbs. fresh tomatillos, husks removed
3 garlic cloves, minced
1 extra-large chicken or vegetable bouillon cube
1 large onion, chopped
3 poblano peppers, seeded and chopped
2 tbsp. olive oil
1 (16-oz.) package frozen whole kernel corn
1 tbsp. chili powder
1 tsp. ground cumin
3 cups chopped cooked chicken
1 (15-oz.) can black beans, drained and rinsed
1 (15-oz.) can navy beans, drained and rinsed
1 (15-oz.) can small kidney beans, drained and rinsed
1/2 cup fresh cilantro leaves, chopped
3 tbsp. fresh lime juice
2 tsp. salt
1/2 tsp. pepper
Optional toppings
avocado slices
shredded Jack cheese
fresh cilantro
tortilla chips
sour cream
Directions:
1. Bring tomatillos, garlic, bouillon cube, and 3 cups water to a boil in a 3-qt. saucepan; boil 10 minutes.
2. Meanwhile, sauté onion and peppers in hot oil in a large Dutch oven over medium-high heat 4 minutes or until tender. Add corn; sauté 2 minutes. Add chili powder and cumin; sauté 4 minutes.
3. Remove tomatillo mixture from heat, and cool 5 minutes. Process mixture in a blender until smooth.
4. Add chicken, beans, and tomatillo mixture to Dutch oven. Cook, stirring occasionally, 15 minutes. Stir in cilantro, lime juice, salt, and pepper; cook 5 minutes. Serve with desired toppings.