I can't believe it's taken me years to get this Mushroom Cornbread Dressing on the blog. This is my absolute favorite dressing and we have it almost every year. I say almost because I like to change it up, but nothing so far beats this recipe. It's the perfect texture with cornbread, mushrooms, green onions, and almonds. Of course I slather it with cranberry sauce, too. I just love everything in this dressing! It's also easy to halve if you don't want to make the full recipe.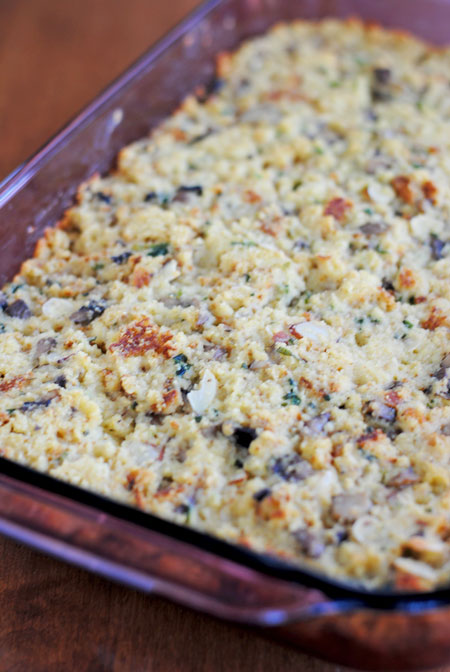 So, how's it taste?
This dressing is just so savory. The broth and the cream of chicken soup with the poultry seasoning really make it. I know some folks turn their noses up to recipes with a can of soup, but it really works here. The original recipe included directions for making the cornbread yourself, however we found it to be way too greasy and started making our own. My mom is actually in charge of this recipe every year, so she uses a White Lily buttermilk cornbread mix and it's pretty fab. The dressing mixture will look really wet, but it bakes perfectly. This is such a great dressing to bring to holiday potlucks or have on your own table.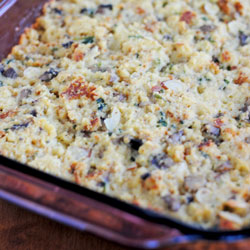 Mushroom Cornbread Dressing
Ingredients:
your favorite cornbread recipe for a 9x13 pan (I use White Lily buttermilk mix)
2 cups chopped mushrooms
1/2 cup chopped green onions
3 tbsp. butter
3 eggs
2 cans (14.5 oz. each) chicken broth
1 can (10 3/4 oz.) cream of chicken soup, undiluted
1/4 cup sliced almonds, toasted (slivered almonds work well, too)
1 tsp. poultry seasoning
1/4 tsp. pepper
Directions:
1. Prepare your favorite cornbread for a 9x13 pan. I use White Lily buttermilk cornbread mix.
2. In a skillet, saute mushrooms and onions in butter until tender.
3. In a large bowl, beat 3 eggs; add broth, soup, almonds, poultry seasoning, pepper, and mushroom/onion mixture. Mix until combined. Crumble cornbread over mixture. Pour into a greased 9x13x2 baking dish.
4. Bake, uncovered, at 350F for 45-50 minutes or until a knife comes out clean.