Who's ready for the long 4th of July weekend?! I know I am. I have two favorite holidays, one is New Year's Eve and the other is the Fourth of July. There's so much excitement around both and maybe I have a thing for fireworks and late-night celebrations. A plus about the 4th is the grilling. It's easy and there's just something about food cooked on the grill. These Grilled Cheesy Corn Cakes are no exception. Simple to put together and they take no time to grill.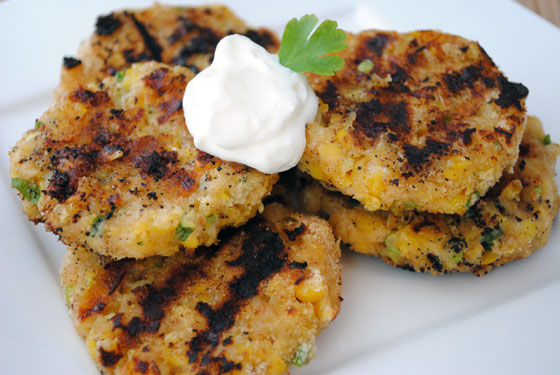 So, how's it taste?
If you like cheese as much as I do, you will love these! Smoked Gouda is among my top five all-time favorite cheeses. It pairs beautifully with the corn and shares the spotlight. I like to really taste the sweet corn, so I don't want a lot of stuff covering it up. What makes this recipe special, is the corn is the bulk of the cake. It's not full of breading with just a few niblets here and there. Breadcrumbs and sour cream help with the binding, but this corn cake is seriously all about the corn. It's crunchy, creamy, and chunky all in one bite! I used green onions in mine for a touch of heat, but chives work well, too. Topped with a dollop of sour cream, these are a winner. Surprise your family and guests by serving up something a little different on the grill this year.
How do you celebrate the 4th? What will be on your grill this year?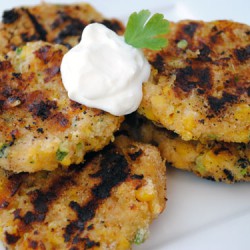 Grilled Cheesy Corn Cakes
Ingredients:
2 cups fresh or frozen corn, thawed
1/2 cup shredded smoked Gouda
3/4 cup plain breadcrumbs, divided
1/3 cup chopped fresh green onions or chives
1 tbsp. sour cream + 1/2 cup, for serving
1 tsp. kosher salt
1/2 tsp. freshly ground black pepper
extra-virgin olive oil
Directions:
1. In a food processor, pulse the corn into a chunky puree. Place in a medium bowl. Add the cheese, 1/2 cup breadcrumbs, green onions, sour cream, salt, and pepper. Stir until combined. Form the mixture into 9 balls and flatten into patties, each about 2 1/2 inches in diameter and 3/4-inch thick. Refrigerate for 30 minutes.
2. Coat the patties in the remaining 1/4 cup breadcrumbs and drizzle with olive oil. Place a grill pan over medium-high heat or preheat a gas or charcoal grill. Grill until toasted, 4 to 5 minutes each side. Serve with a dollop of sour cream.