This is the last of the sides from our Thanksgiving. I really do enjoy a good sweet potato casserole. It's almost as much of a staple as dressing. I wanted something a little different this year, so I instantly picked this Sweet Potatoes and Roasted Bananas with Honey version. It's a pretty simple dish with sweet potatoes, bananas, and honey topped with classic brown sugar and pecans. I had never roasted bananas before, so I was excited to try a new baking skill!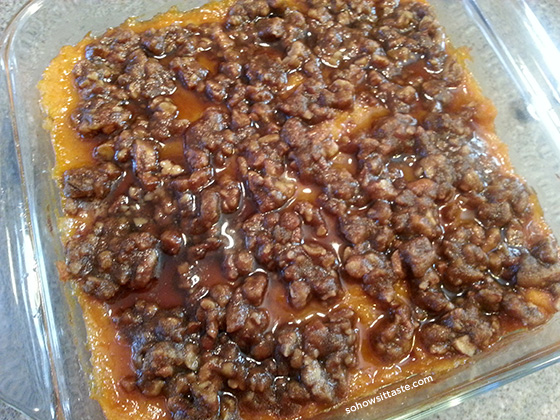 So, how's it taste?
I was really happy with the results, but as you can see my topping pooled a little bit with the butter. You know why? Because I completely forgot the flour! Argh! I didn't even realize I had left it out until I wrote the ingredients for this post. Oh well, a little pool of butter never hurt anyone. It really didn't affect the flavor either, but the topping would have been a lot crunchier. The roasted bananas definitely shine in this recipe. They turn into this sweet, decadent flavor that I just can't describe. I loved it, but if you aren't a banana lover, you may not be a fan. You could easily reduce the amount of bananas so they add sweet but not a heavy flavor. Use really good honey, too, as it's a prominent flavor as well. This dish was delicious, but be warned it's really sweet. It was almost like dessert, but I find that most sweet potato casseroles can easily play that role. My one complaint is that it's not "whipped." The original title had that word and I left it out because it's not a whipped and fluffy texture. I think next time I make this, I would actually whip the potatoes and bananas with an electric mixer or maybe use a food processor. I wanted them a little more lighter than what I can do mixing them by hand.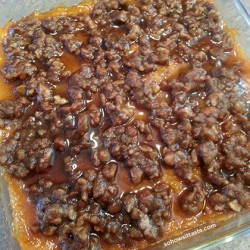 Sweet Potatoes and Roasted Bananas with Honey
Ingredients:
5 medium sweet potatoes, scrubbed
4 bananas, unpeeled
1 cup (2 sticks) unsalted butter, room temperature
1/4 cup honey
Kosher salt
1/2 cup all-purpose flour
3/4 cup dark brown sugar
1 1/2 cups pecans, chopped
Directions:
1. Preheat the oven to 400F. Prick the sweet potatoes all over with a fork, place on a roasting pan and roast for 30 minutes. Toss the bananas into the pan and continue roasting for 10 to 15 minutes, until both the bananas and potatoes are very soft. Remove the pan from the oven but don't turn the oven off.
2. When the potatoes are cool enough to handle, scoop out the flesh into a large mixing bowl. Peel the bananas and add them to the bowl along with 1 stick of the butter and the honey. Season with salt and beat vigorously with a wooden spoon until everything's well combined and the mixture is fluffy. Spoon into an oven-proof serving bowl and smooth the top.
3. In a separate mixing bowl, use your fingers to rub together the remaining stick of butter, the brown sugar, flour, and pecans until the mixture is the consistency of coarse crumbs. Sprinkle the crumb mixture over the sweet potatoes and return to the oven. Cook for about 20 minutes, until the crumbs are golden. Serve hot.