A few weeks ago I bought a ton of produce. I was convinced this new diet was going to have me eating super healthy and shedding pounds right and left. Um, yeah, that lasted for not even a full day. On closer inspection, the diet was nothing but a ton of raw veggies on salad with little dressing and I knew I was going to hate it before I took the first bite. Those kinds of diets always hook me in when I know I should just stick to what works for me. Fast forward and I'm stuck with all kinds of fresh veggies. Some of those being some beautiful yellow bell peppers. I took inventory of what was already in my pantry and discovered I could whip together a fantastic filling for Vegetarian Stuffed Peppers. I used to think I couldn't create my own recipes, but I'm slowly proving myself wrong. Kind of fun to experiment in the kitchen and end up with something blog-worthy that isn't in my Oops category!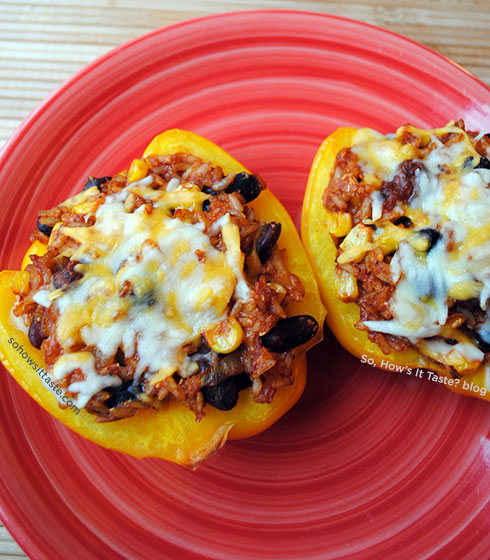 So, how's it taste?
I really surprised myself with this one! I can follow a recipe no problem and make some killer food, but I don't venture out into original territory too often. Part of the reason is why bother when there's so many awesome recipes out there, and another part is not knowing if it will taste good. But I take that risk making others' recipes anyway. I wasn't in the mood to prowl the internet for the perfect recipe and I wasn't about to go to the grocery store after spending an insane amount of money on all that produce (side note: it it EXPENSIVE to eat healthy, sheesh!). That's when I raided my pantry, freezer, and fridge and started to come up with a plan for what I could stuff into these peppers! Rice was easy as the base, then thinking about the corn and beans, I decided on the Southwest spices. The rice, corn, and beans add bulk and are really filling. The onion, garlic, and spices give it such a boost of flavor. The tomato paste is the key as it adds just a bit of sweet and helps to keep the mixture together. Of course, the cheese provides the finishing touch. Ta da!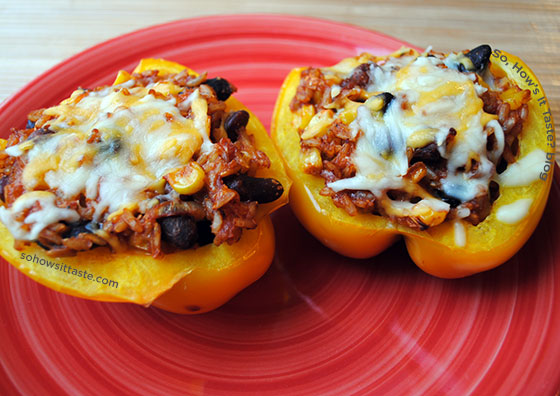 I'm so happy these turned out so well. The funny thing is I don't like bell peppers. Huh? Yep, it's weird. I'm really trying to force myself to like them. Hey, it works! That's why I like tomatoes and a lot of other veggies, because I kept eating them and one day enjoyed it. Odd, I know. I love the way bell peppers smell when cooking and I really like the flavor, too. It's something about their crunch and texture that I don't like. Which doesn't make any sense because I love crunchy foods. I think it's the skin actually. Next time I make these, I may try roasting them so I can remove the skin. They'd be hard to stuff, but I think it could be done. I am determined to be a bell pepper eater!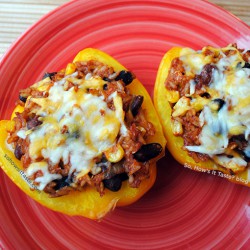 Vegetarian Stuffed Peppers
So, How's It Taste original
makes 4 stuffed pepper halves
Ingredients:
2 bell peppers, your color choice
small onion, diced
garlic clove, minced
2 tbsp. tomato paste
1/2 cup frozen corn kernels
1 cup cooked brown rice
1 cup kidney beans, reserve the juice
1/2 tsp. cumin
1/2 tsp. chili powder
dash cayenne
1 cup Colby Jack cheese, shredded, divided
Directions:
1. Preheat oven to 375F. Spray a baking sheet with cooking spray.
2. Slice bell peppers in half. Remove the stem, seeds, and white membrane; discard. Place bell pepper halves on prepared baking sheet. If they tip over, fashion some aluminum foil around them to help them stand up.
3. In a large skillet over medium heat, cook the onion and garlic for about 2 minutes, or until onion is soft. Add the rest of the ingredients, using 1/2 cup of the cheese. Stir until combined. Remove from heat.
4. Scoop filling evenly into the 4 bell pepper halves. Bake for 15-20 minutes, until the peppers are cooked through. They'll begin to look wrinkly. Top each pepper with about 1/8 cup each of the remaining cheese. Bake for a few minutes more until the cheese is melted.