It never ceases to amaze me how you can spend hours in the kitchen prepping a dish or you can spend minutes, and both come out tasting fantastic. Funny how food works that way. Luckily this Corn Frittata is the latter. It's a breeze to put together and takes no time to cook. If you're a corn lover, you're going to enjoy this one. We used to have a joke at my mom's house when asked "what do you want with it?" that the answer was always corn. She always has a bag of frozen corn in the freezer and guess what? So do I. The recipe calls for fresh corn and certainly go that route if you like, but frozen corn works just as well.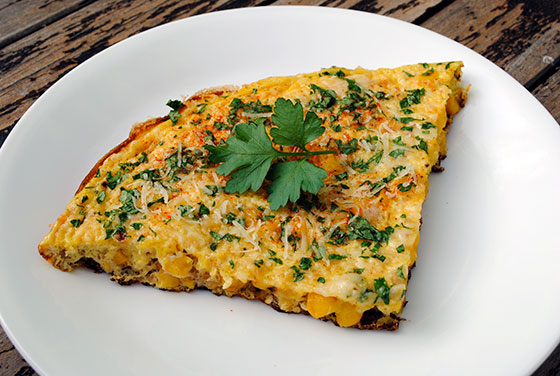 So, How's It Taste?
Way, way better than expected! Even using frozen corn, it tasted so fresh and light. I need to use a smaller pan next time because mine are a bit on the flat side compared to the picture in the magazine. The corn really shines in this, but I do think it needs a bit of oomph. I have so many different combos in my head that would work great for this. I think adding bell pepper or switching to sharp cheddar would give it that extra bit of something. Don't get me wrong, it's very delicious as is, but it needs a slight boost. We ate our slices with a small spinach salad. Wonderful, light, healthy meal and minimal cooking. That's my kind of summer eating!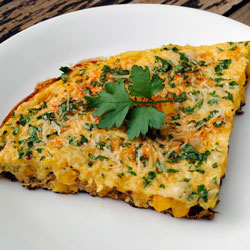 Yield: 4 servings
Total Time: 34 min
Corn Frittata
Ingredients:
1 tsp. olive oil
1 1/2 cups fresh corn kernels (about 2 ears) (I used frozen)
1/3 cup diced shallots
1/2 tsp. kosher salt, divided
1/2 tsp. freshly ground black pepper, divided
1/4 tsp. smoked paprika (optional)
1/4 cup 1% low-fat milk (I used nonfat milk)
6 large eggs, lightly beaten
2 tsp. butter
1 oz. pecorino Romano cheese, grated (about 1/4 cup)
2 tbsp. chopped fresh flat-leaf parsley
Directions:
1. Heat a medium ovenproof skillet over medium-high heat. Add oil to pan; swirl to coat. Add corn and shallots to pan; cook 3 minutes, stirring frequently. Stir in 1/4 teaspoon salt, 1/4 teaspoon pepper, and paprika, if desired. Place corn mixture in a bowl; cool slightly. Wipe skillet clean with paper towels.
2. Place remaining 1/4 teaspoon salt, remaining 1/4 teaspoon pepper, milk, and eggs in a bowl; stir with a whisk until well combined. Add corn mixture to egg mixture, stirring to combine.
3. Preheat broiler to high.
4. Return pan to medium heat. Add butter to pan; swirl until butter melts. Add egg mixture to pan. Cook 1 minute, without stirring. Gently slide pan back and forth to keep eggs from sticking. Cover, reduce heat to low, and cook 4 minutes or until eggs are set and golden on the bottom. Sprinkle cheese evenly over eggs. Broil 1 minute or until eggs are just set and cheese browns. Sprinkle evenly with parsley.
per serving: 227 calories, 13.4g fat, 14g protein, 14g carbs, 2g fiber