Oh look, it's another food that I can't photograph well…at all. I had high hopes of this Layered Italian Sandwich photographing beautifully with that green pesto and layers of salami, red leaf lettuce, and tomato. Alas, it wasn't meant to be, but there was no way I wasn't going to tell you about this sandwich. It's so stinkin' good and unlike similar sandwiches at sub shops that can blow your calories out of the water, you don't have to feel guilty when eating this one. I've made this sandwich several times in the past few weeks for lunch and dinner. It's got so much flavor and texture, I couldn't quit craving it!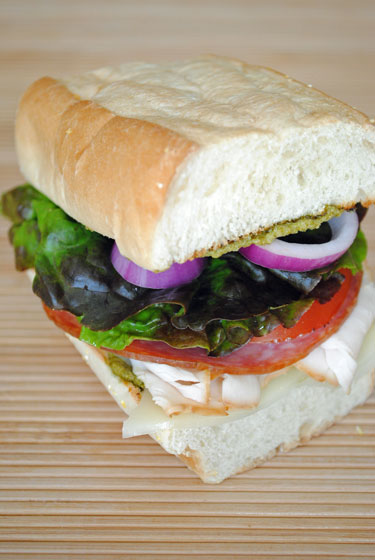 So, how's it taste?
I was really surprised how much I liked this sandwich. You just never know until you take that first bite if your efforts at cutting a few calories will pay off or be completely gross. Thankfully this one was a winner. The standout flavors are the salami and the pesto, so make sure you buy the good stuff (or try making your own pesto). The smoked turkey bulks out the sandwich adding very little fat and calories. The pesto is an excellent condiment instead of the regular ol' mayo and mustard. I like to pile my sandwich high with crunchy lettuce and juicy tomatoes. Adding freshly ground pepper right on top of the tomato is my seasoning secret. Red onions add another layer of crunch and some bite! I love red onions on sandwiches and burgers. Of course, no sandwich is complete without cheese. Right after I toast the bread, I top one half with the cheese and put it back in the warm toaster oven. It slowly melts while I'm getting the rest of my ingredients ready. I know it's called an Italian Layered Sandwich and I'm using French bread, but that's how I kept the calories low. The original recipe calls for using focaccia, so if you're not watching the calories, make it using that bread. I'm sure it's even more fantastic!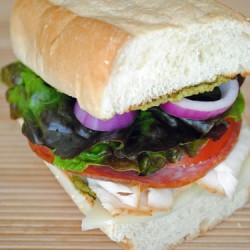 Layered Italian Sandwich
Ingredients:
1 package twin French bread (I use Pepperidge Farm)
1/2 cup basil pesto
8 slices reduced-fat provolone cheese
1 lb. thinly sliced smoked turkey
8 slices hard salami
8 slices tomato (I use roma tomatoes)
8 red lettuce leaves
8 thin slices red onion
freshly ground black pepper
Directions:
1. Cut each loaf of French bread into four pieces. Cut each piece in half and toast both halves of each piece. Spread 1 tablespoon of pesto onto one toasted half of each piece.
2. Layer provolone, turkey, salami, tomato, lettuce, red onion on bottom piece. I like to add black pepper on top of the tomato slice. Add top of French bread.