Oh how this pasta dish rocks my world. I first made Chicken Carbonara a few years ago, but it was for a special event (holiday or birthday…I can't remember!). I didn't have time to snap pictures, so it never made it on the blog. I've had it on my "to blog" list ever since. It's absolutely sinful. Definitely something to serve for a special occasion, but not too difficult to make for a weeknight if you're feeling like being spoiled. I made this for my mom on Mother's Day and we gobbled it up. The best part is that it makes a ton. Giada says it makes six servings, but I beg to differ. I can throw down on some pasta, but there's no way I can eat that much of this rich dish. So invite some friends over, open a few bottles of wine, and share the pasta love.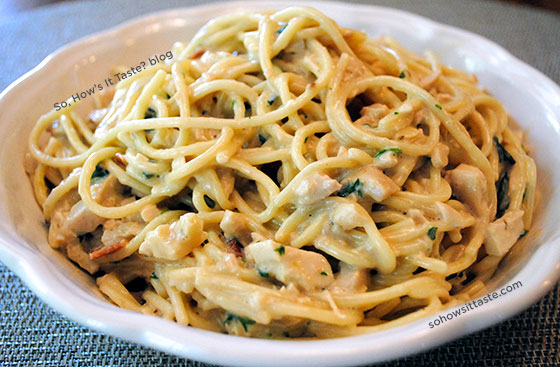 So, how's it taste?
I've already mentioned it's completely sinful. It's rich, rich, rich. Eight egg yolks and 2 1/2 cups of whipping cream will do that! Not to mention the bacon and that delicious roasted chicken. I used a store-bought rotisserie chicken and that works fine, but you can certainly roast the chicken yourself. My friend Megan from Country Cleaver has a great how-to post on just that. Now that I've made this dish twice, I'd like to try it with half-and-half instead of the whipping cream. It would lighten the dish just a tad, but not take away from it's creaminess. I also used thin spaghetti because I like smaller noodles (I'm a big angel hair fan, but my mom's not, so we compromise with thin). I also don't bother toasting the walnuts, but you certainly can. Toasting nuts doesn't really enhance the flavor to me and I almost always prefer the raw taste anyway, so I don't bother with the extra step. I love the fresh herbs and touch of lemon in this dish, too. Little specks of green and a hint of freshness from the lemon to cut through the cream. Oh it's just fantastic! I hope you try it.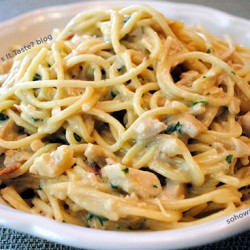 Chicken Carbonara
by Giada De Laurentiis
makes 8-10 servings
Ingredients:
2 tsp. olive oil
4 oz. thinly sliced pancetta or bacon, chopped
2 tsp. minced garlic
2 1/2 cups whipping cream
1 cup freshly grated Parmesan
8 large egg yolks
1/4 cup chopped fresh basil leaves
1/4 cup chopped fresh Italian parsley leaves
Salt
1 lb. spaghetti
4 cups coarsely shredded chicken (from 1 roasted chicken)
Freshly ground black pepper
1/2 cup chopped walnuts, toasted
1 tbsp. finely grated lemon peel
Directions:
1. Heat the oil in a Dutch oven over medium heat. Add the pancetta or bacon and garlic and saute until it is brown and crisp, about 8 minutes. Remove from pan onto paper towels to absorb some of the grease and cool slightly. Remove grease from Dutch oven and discard.
2. In a large bowl, whisk together the cream, cheese, yolks, basil, and parsley until combined.
3. Meanwhile, bring a large pot of salted water to a boil over high heat. Add the spaghetti and cook until it is just tender but still firm to the bite, stirring occasionally, about 10 minutes. Drain.
4. Add the chicken and pancetta or bacon to the Dutch oven and stir to combine. Next, add the spaghetti and the cream mixture and toss over medium-low heat until the chicken is heated through and the sauce coats the spaghetti thickly, about 4 minutes (do not boil or you may end up with scrambled eggs). Season the pasta with pepper and salt if needed (the pancetta/bacon will add some salt, so taste it first). Mix in the walnuts and lemon zest. Serve immediately.