Soup's on! I've been eating Corn & Shrimp Chowder pretty much everyday since I first made it. It's absolutely divine. Creamy, bacony, savory, and full of yummy chunks of potato, corn, and shrimp. The serving size for this chowder is a bit on the small side because I wanted to keep the calories somewhat in check. I didn't think about using fat-free half and half until after I'd made the soup – oof! A serving is a little bit bigger than a cup, but I paired it with a small side salad and enjoyed a pretty filling meal.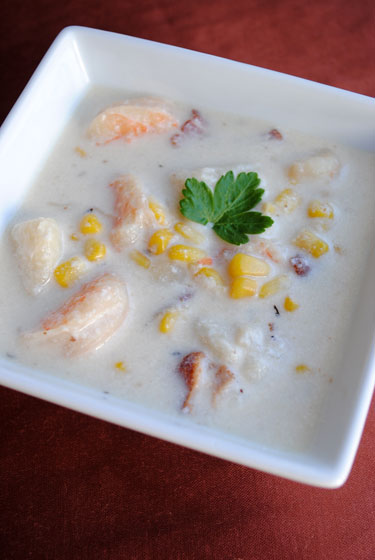 So, how's it taste?
Bowl-lickin' good! Yes, I turned up every bowl I'd eaten and did just that…licked it clean. That's a sign of a good food! My chowder didn't turn out as thick as I'd like, but I didn't use quick-cooking flour, I used regular, so I'm not sure if that's the difference or if it's really not that thick. I loved the big chunks of potato, shrimp, and the corn. I can't tell you how savory this soup is. The chowder liquid is so good…I'm sure from the bacon and bacon grease, since you don't drain it after it's cooked. It's definitely a rich soup, but I could eat the whole batch in one sitting or make a decent effort!
I made this chowder because in my cookbook it had a pretty low calorie count, which I thought just couldn't be right. Turns out it wasn't. Looking at the recipe online, it was a much larger amount, so that's why I made this soup eight servings instead of seven as the original recipe suggests. I'm kicking myself that I didn't think about using fat-free half and half! That would help big time with the calorie and fat count…and I wouldn't feel so guilty about not draining the bacon grease! I'll be making this again for sure doing just that. I'll update this post with the results.
Note: This soup does not freeze well. The half and half separates a bit and looks curdled. It's ok to eat because once you heat the soup again, the chowder liquid goes back to normal. However, the potatoes develop a really nasty, soggy texture.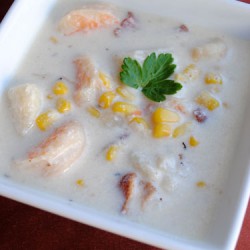 Corn & Shrimp Chowder
Ingredients:
4 slices bacon, cut into 1/2-inch pieces
1 medium onion, coarsely chopped (1/2 cup)
6 small red potatoes, cut into 1/2-inch pieces
2 cups frozen corn
1/4 tsp. dried thyme leaves
32 oz. chicken broth (4 cups)
1/4 cup quick-mixing flour (Wondra®)
2 cups half-and-half (try fat-free for less calories)
12 oz. frozen or fresh uncooked medium shrimp, peeled, deveined & tails removed (do not thaw if using frozen)
1/2 tsp. salt
1/8 tsp. pepper
Directions:
1. In 5- to 6-quart Dutch oven, cook bacon over medium-high heat 5 to 6 minutes, stirring frequently, until crisp. Stir in onion, potatoes, frozen corn, and thyme. Cook 5 to 6 minutes, stirring frequently, until onion is softened.
2. With wire whisk, beat in broth and flour. Heat to boiling. Reduce heat to medium; cover and cook about 15 minutes, stirring occasionally, until potatoes are tender and soup is slightly thickened.
3. Stir in half-and-half, shrimp, salt, and pepper. Cover; cook 5 to 6 minutes if using frozen shrimp or 3 to 4 minutes if using fresh. Stir occasionally, until shrimp are pink.