I am in love with Thai food. Make that obsessed with Thai food. I can't really pinpoint one flavor or dish that makes me crave it so much. It's quite possible I could eat it every day with no complaints. So, I jumped at the chance to try this healthy version of Chicken Pad Thai.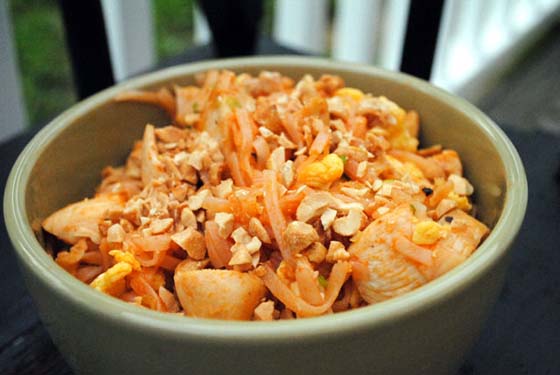 So, how's it taste?
Well, not like my favorite local Thai restaurant. It wasn't bad, but wasn't what I was expecting. Keep in mind I did say healthy version of pad thai. While I enjoyed the flavors, the dish overall was too dry. It needed more sauce and more pizzazz. I'm not sure if doubling the sauce would make this dish healthy! I will mention that I was shocked it tasted decent seeing as the main sauce ingredient is ketchup. I thought I'd end up eating ketchup-flavored noodles with chicken, but I really couldn't taste it after all was said and done. I didn't hate this recipe, but I'm thinking I'll splurge on the real thing next time!
Chicken Pad Thai
Ingredients:
4 oz. flat rice noodles
4 tbsp. low-sodium ketchup
1 tbsp. fish sauce
1 tsp. sugar
1 tbsp. peanut oil, divided
1 egg, lightly beaten
12 oz. boneless, skinless chicken breast halves, cut into 1 1/2" long strips
2 cloves garlic, minced
3 scallions, cut into 1" pieces
1 cup bean sprouts
1/2 cup unsalted peanuts, finely chopped
Directions:
1. Bring a pot of water to boil and cook per package directions.
2. Combine ketchup, fish sauce, and sugar in small bowl. Heat 1 tsp. peanut oil in large, nonstick skillet over med-high heat. Add the egg and cook, stirring occasionally until set. Transfer egg to a bowl and reserve.
3. Return the skillet to stove and heat the remaining 2 tsp. oil. Add the chicken and cook 4 to 5 minutes or until lightly browned and cooked through. Add garlic and cook for 30 seconds. Add noodles and cook for 1 minute. Add the ketchup mixture and toss for 1 minute. Stir in scallions and egg and remove from heat.
4. Divide among 4 plates, garnish each with 1/4 cup of the bean sprouts and sprinkle with the peanuts.