Oh baby! Seriously, I never wanted this meal to end and I'm paying for it now. I am so stuffed because I simply could not quit eating! this Creamy Asparagus-Chicken Bow-Ties!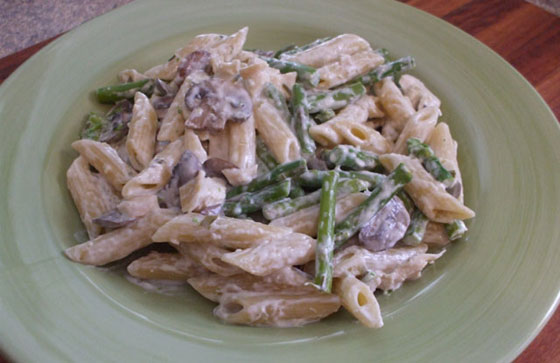 Talk about easy. I changed the bow-tie pasta to penne and once again used chicken I had previously baked and cut into bite-sized pieces instead of the rotisserie. Cook the asparagus and mushrooms (I used baby bellas) with the pasta, mix the cream cheese, parmesan, and chicken and you are set! A great one-dish meal quick enough for a weeknight. You could also leave out the chicken and make a really good vegetarian dish.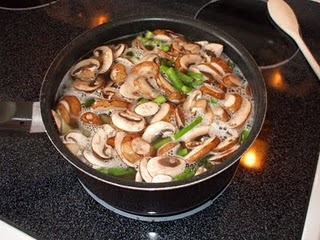 Just make sure you use a proper sized saucepan, or maybe even a Dutch oven. As you can see, I managed to stuffed that pasta, asparagus, and mushrooms into this saucepan and barely made it. I'm notorious for not reading all the way through a recipe. Hey, I live on the edge!
So, how's it taste?
I'm still reminiscing about that first bite. The sauce is so creamy and then you get a nice crunch from the asparagus. Don't like asparagus? You could easily substitute broccoli. The chive & onion flavored cream cheese is the wow factor! Such a subtle taste of onion makes all the difference. I will definitely make this one again and would be good enough to serve to company.
*Tip: It's so much easier to buy a bunch of chicken breasts and bake them in advance. I sprinkle the chicken with pepper and Lawry's seasoned salt and that works for most recipes calling for cooked chicken. I cut them into the sizes I need, measure the amount for my recipes, and freeze the cooked chicken. Tremendously cuts down on cooking time!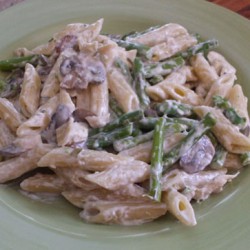 Creamy Asparagus-Chicken Bow-Ties
Ingredients:
4 cups uncooked bow-tie (farfalle) pasta (8 oz.)
8 oz. fresh asparagus, cut into 1-inch pieces, or 1 box (9 oz.) frozen asparagus cuts
1 package (8 oz.) sliced fresh mushrooms (3 cups)
1 container (8 oz.) chive-and-onion cream cheese spread
1/4 cup grated Parmesan cheese
1/3 cup milk
1/2 lb. deli rotisserie chicken (from 2- to 2 1/2-lb chicken), cut into bite-size strips (2 cups)
Additional grated Parmesan cheese, if desired
Directions:
1. Cook pasta as directed on package, adding asparagus and mushrooms for the last 5 minutes of cooking. Drain and return to saucepan.
2. In small bowl, mix cream cheese, 1/4 cup Parmesan cheese and the milk until smooth. Stir cheese mixture and chicken into pasta mixture.
3. Cook over medium heat about 2 minutes, stirring gently, until pasta is evenly coated with sauce and mixture is thoroughly heated. Serve with additional Parmesan cheese.