Welcome to the best sandwich. Ever. This is the main reason I fire up my panini grill. I first got my grill years ago (actually it's a Cuisinart griddler) and soon after bought Panini after going through tons of panini cookbooks. The first recipe I tried was the Croque Monsieur. My mom was visiting and it seemed right up her alley. A fancy grilled ham and cheese with more cheese sauce poured over the top. Sign me up!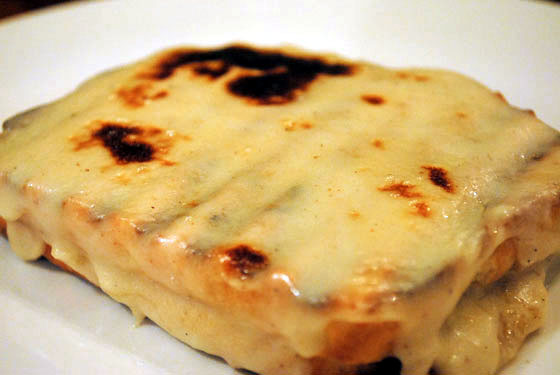 So, how's it taste?
Forgive the horrid, horrid picture. This sandwich is quite boring the way I shot it and I was so ready to dive into it that I didn't care about how the picture would turn out. Slightly regretting that decision now. But that shows you how good it is. It's more than a grilled ham and cheese. It's Black Forest ham, Gruyere, Dijon mustard, and chives. All grilled to perfection on classic white bread (or you could use French). If you don't like any of these ingredients, then don't bother making this sandwich. Everything together makes it perfect, so don't leave out the chives, or use yellow mustard, or substitute turkey. Some things shouldn't be messed with.
Once you've got all those yummy ingredients assembled and grilled, pour over the most decadent, creamy, cheese sauce ever. Oh. Em. Gee. The cheese sauce is buttery and elegant with just a hint of nutmeg. Place it under the broiler for a few minutes and heaven awaits you.
Want to take that goodness to the next level? Then I present you with the Croque Madame. This is a serious sandwich. It's a Croque Monsieur, with a fried egg on top.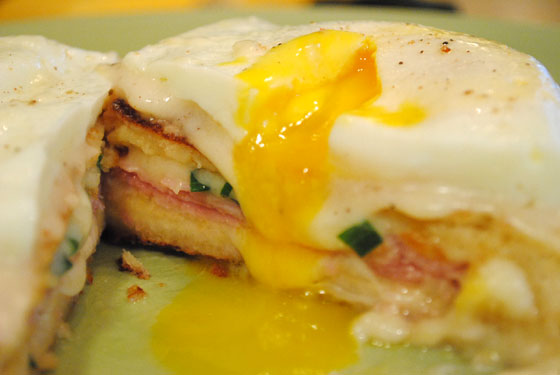 I love fried eggs. Runny, yummy, sop-up-with-any-bread-I-can-find eggs. If the runny yolk creeps you out (I had no idea these kind of people existed until a recent field trip with fellow bloggers), cook it longer so the yolk is cooked or stick to the Croque Monsieur. But if you're like me, you are in for a treat! The yolk runs through your sandwich and mixes with the cheese sauce and turns into this eating experience that is beyond words. I like to take a forkful of sandwich and run it through the sauce and egg for each bite!
Both of these sandwiches are eaten with a knife and fork. You can attempt to eat it like a regular sandwich, but you'll have one heck of a mess on your hands (literally!).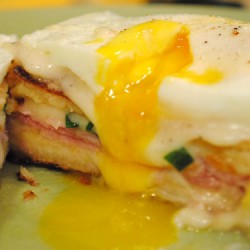 Croque Monsieur & Croque Madame
Ingredients:
Cheese Sauce
2 tbsp. unsalted butter
2 tbsp. all-purpose flour
2 tsp. Dijon mustard
1/4 tsp. grated nutmeg
salt & freshly ground black pepper
1 cup whole milk (also works well with skim)
1/4 cup shredded Gruyere cheese
Sandwiches
Classic White Bread (or French or other country-style), 4 slices, 1/2-inch thick
1 tbsp. unsalted butter, melted
1 tbsp. Dijon mustard
1/4 lb. Gruyere cheese, thinly sliced
3 oz. Black Forest ham, thinly sliced
2 tsp. fresh chives, snipped
2 fried eggs, optional for Croque Madame
Directions:
1. To make the cheese sauce, in a small saucepan, melt the butter over medium heat. Add the flour and cook, whisking, for 1 minute to make a smooth paste. Stir in the mustard, nutmeg, and salt and pepper to taste, then slowly whisk in the milk. Cook, whisking, until the sauce comes to a boil and thickens, about 2 minutes. Remove the pan from the heat and stir in the shredded cheese until melted. Keep warm until ready to use.
2. Preheat the sandwich grill. Place the bread slices on a work surface and brush 1 side of each with the melted butter. Turn and spread the unbuttered side with the mustard. On each of 2 of the bread slices, mustard sides up, layer one-fourth of the cheese, half of the ham, and half of the chives. Top with the remaining cheese on each. Place the remaining 2 bread slices on top, mustard sides down, and press to pack gently.
3. Place the panini in the grill, close the top plate, and cook until the bread is golden and toasted and the cheese is melted, 3-5 minutes. Meanwhile, preheat the broiler. Transfer the finished panini to a small baking sheet. Spoon the sauce over the sandwiches, then place under the broiler 3-4 inches from the heat source. Broil, watching carefully to prevent burning, until the sauce is bubbly and flecked with brown, about 1 minute. Transfer to plates and serve right away. Optional, top sandwiches with a fried egg just before serving for the Croque Madame.