Lasagna is such a great main dish. There are so many versions, with meat, without, with veggies, or just a ton of cheese. I saw this Spinach Lasagna with Mushroom Ragu in Food Network magazine and was planning a girls night dinner, so I thought this one-dish meal would be perfect. When I'm having friends over for dinner, I don't want to be stuck in the kitchen. A simple salad, crusty Italian bread smothered in Compound Herb Butter, this lasagna, and a few glasses of wine topped off with watching Love Actually made for a pretty awesome girls night!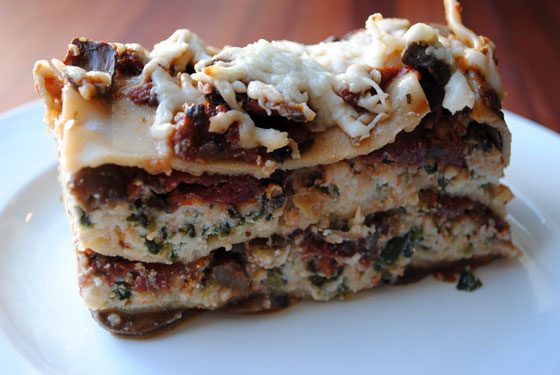 So, how's it taste?
Let me start off by saying if you haven't seen Love Actually, go rent it right now. Matter of fact, just buy it. It's that awesome and you'll want to watch it repeatedly, especially around the holidays. On to the lasagna…
I really enjoyed the flavor of this lasagna. It's definitely fancy, glammed up lasagna with the mushroom ragu. IÂ love mushrooms and the variety in this recipe will knock your socks off. The mushrooms with the crushed tomatoes makes an excellent sauce. I did opt for white button mushrooms over the shiitake, but only because there's so much flavor in the rest of the ingredients that I didn't think they'd be missed (I was right) and I didn't want to spend a small fortune in shiitakes. Speaking of, this lasagna isn't cheap to make. Had I bought the shiitakes, I would've spent $24 bucks on those alone. There's also two pounds of ricotta, 1 1/2 pounds of mozzarella, and a 1/2 pound of asiago. That's a lot of cheese and a lot of $$$ for a pan of lasagna. But for a special occasion, I don't mind going all out!
It's also not a weeknight dish as Food Network magazine suggests, unless you don't have a job or anything else to do for the entire day. You also need to enjoy cooking or this recipe will drive you nuts. I love it, so I don't mind being in the kitchen that long, but this takes a good 4 hours and that doesn't include the hour and 15 minute baking time. The ragu simmers on the stove for well over 2 hours (directions say 1 1/2 hours, but mine took way longer; see note in recipe). It will however, make your house smell fantastic, which is great when you have company coming over. And I thoroughly enjoyed squishing the tomatoes by hand, it's kind of therapeutic, even though my kitchen looked like a murder just happened with all the squirts of tomato juice that were everywhere!
The finished product was well received by my guests and that makes me happy! I felt it was a bit much with the ricotta though. The two cheese layers were really thick and almost took away from that glorious ragu. If I make this again, I'll cut the cheeses in half and not use as much. I also thought it would work well to use 1/2 ricotta, 1/2 cottage cheese. I know there are purists who think cottage cheese has no place in lasagna, but I disagree. A lot of folks don't care for the texture of ricotta. I'm not one of them, but I can see why they don't like it. The ricotta almost takes too much of the spotlight away from the rest of the ingredients here and cottage cheese would help tone down that texture that can seem too gritty. But I think halving the cheese would help that, too. I prefer the ragu be the star of the show!
I'm coming off quite negative about this lasagna, but it truly was delicious. I want to make sure if you decide to make it that you're warned of the time and money it'll take. It's a showstopping meal and it was nice to pull one dish out of the oven and have dinner on the table. But don't plan to make this on a Monday night after you've had a long day at work…the tomato crushing isn't that therapeutic! 😉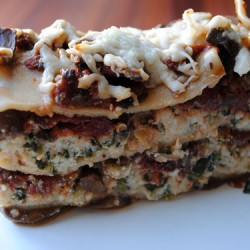 Spinach Lasagna with Mushroom Ragu
Ingredients:
Ragu
1 oz. dried porcini mushrooms
2 tbsp. extra-virgin olive oil
1 medium onion, chopped
1 large carrot, finely chopped
1 stalk celery, finely chopped
4 cloves garlic, chopped
2 tbsp. tomato paste
2 portobello mushroom caps, chopped
1 1/2 pounds shiitake mushrooms, stems removed, chopped (or white button mushrooms)
Kosher salt and freshly ground pepper
2 (28-oz. cans) whole tomatoes, crushed by hand
3 bay leaves
1/4 cup chopped fresh parsley
Lasagna
3 oz. parmesan cheese, grated
1 1/2 lbs. part-skim mozzarella cheese, shredded
8 oz. asiago cheese, shredded (or use the Italian four cheese blend)
2 lbs. ricotta cheese
2 large eggs, lightly beaten
1 lb. frozen chopped spinach, thawed and squeezed dry
1/4 tsp. freshly grated nutmeg
9 dried lasagna noodles
Directions:
1. For the ragu, soak the porcini mushrooms in 1 cup hot water until soft, about 15 minutes. Strain through a fine-mesh sieve over a bowl. Chop; reserve the liquid.
2. Heat the olive oil in a large pot (I used a Dutch oven) over medium heat. Add the onion, carrot, and celery and cook until soft, 5 minutes. Stir in the garlic and tomato paste and cook, stirring, 2 more minutes. Add the portobello and shiitake (or white button) mushrooms, 1 teaspoon salt, and 1/2 teaspoon pepper; cook, stirring, until the mushrooms are soft, 5 more minutes.
3. Add the porcini mushrooms; cook 2 minutes. Add the reserved porcini liquid, bring to a boil and cook until reduced slightly, about 3 minutes. Add the tomatoes and their juice, 2 cups water,* and the bay leaves; bring to a boil, stirring occasionally. Reduce the heat to medium low, add the parsley and 1 teaspoon salt and simmer, stirring a few times, until thick, about 1 hour, 30 minutes. Discard the bay leaves. (You can make the ragu up to 1 day ahead; let cool, then cover and chill. Reheat before using.) *It took a long time for the mixture to thicken for me. I eventually gave up and strained out the leftover liquid. If I made this again, I'd reduce the water to 1 cup.
4. For the lasagna filling, mix the parmesan, mozzarella, and asiago; set 1 1/2 cups of the cheese mixture aside. Combine the remaining cheese mixture in a large bowl with the ricotta, eggs, spinach, nutmeg, and 1/2 teaspoon salt.
5. Preheat the oven to 375 degrees F. Bring a pot of salted water to a boil. Add the noodles and cook according to the directions on the box. Drain and rinse under cold water; shake off the excess water.
6. Spread 1 cup of the ragu in a 9-by-13-inch baking dish. Add a layer of noodles, then half of the spinach mixture, and 2 cups ragu. Repeat with another layer of noodles, spinach mixture, and ragu. Top with the remaining noodles and ragu and sprinkle with the reserved cheese. Cover with foil, place on a baking sheet and bake 50 minutes. Uncover and bake until golden, about 25 more minutes. Let rest before serving.