It should come as no surprise that I'd make this Chickpea & Vegetable Tagine. It's got a lot of my usual suspects: zucchini, chickpeas, spices, a little weirdness. I refer to the cinnamon as part of the weirdness. I love finding recipes with something you wouldn't expect. This dish packs a hearty punch and at 278 calories per serving, that is a steal!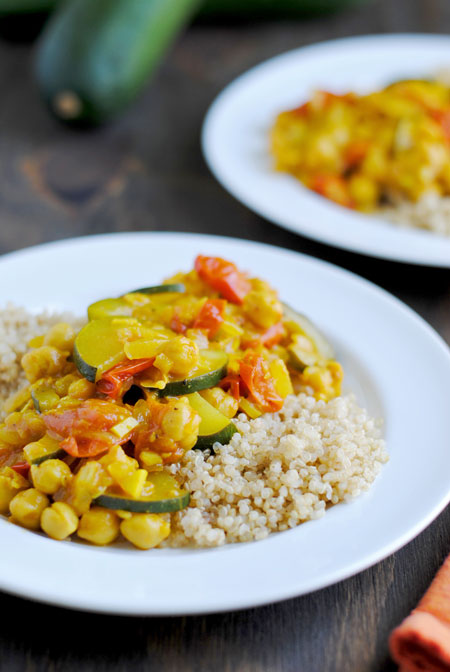 So, how's it taste?
I was really excited to see how the spices would transform this dish. When you add the cumin, coriander, cinnamon, and turmeric to the onions, it's heaven. Next comes the tomatoes, which I found are added too soon. I've complained before that I dislike when tomatoes get cooked to death and you're left with just the skins. That's what happened here, so I'd definitely add them toward the end of cooking next time. You don't need them for their liquid to make a sauce because the zucchinis will do that. I did cook mine a bit longer because the zucchini were still quite crunchy after 5 minutes. My poor tomatoes disappeared even more with the extra cook time.
The dish was still pretty tasty, and this may sound odd, but it felt very clean. It was earthy and comforting, almost better suited for a winter meal. The aroma of the spices cooking with the onion didn't come through on taste to the final product though. I couldn't detect the cinnamon at all and I think the turmeric could be reduced next time, so the other spices can shine through. It left me feeling like the dish could've used a sprinkling of fresh herbs. Perhaps adding the tomatoes later would provide that something it was missing. Overall I'd give it a good rating. The zucchini was delicious with the chickpeas and I loved the nuttiness of the quinoa. A different way to eat my current favorites is always a welcome change!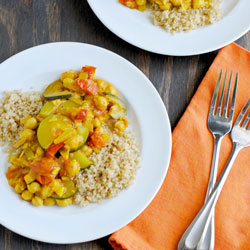 Chickpea & Vegetable Tagine
Ingredients:
1 cup water
3/4 cup uncooked quinoa, rinsed and drained
1/2 tsp. kosher salt, divided
1 tbsp. extra-virgin olive oil
1 1/2 cups chopped onion
1 tsp. ground cumin
1 tsp. ground coriander
1/2 tsp. ground cinnamon
1/2 tsp. turmeric
4 garlic cloves, chopped
3 cups Sun Gold or cherry tomatoes, halved
1 (15 oz.) can unsalted chickpeas, rinsed and drained
1 medium zucchini, halved lengthwise and thinly sliced
1/4 tsp. freshly ground black pepper
Directions:
1. Bring 1 cup water, quinoa, and 1/4 teaspoon salt to a boil in a small saucepan over medium-high heat. Cover, reduce heat, and simmer 13 minutes or until liquid is absorbed.
2. Heat a large saucepan over medium-high heat. Add oil; swirl to coat. Add onion to pan; sauté 4 minutes. Add cumin, coriander, cinnamon, turmeric, and garlic; cook 1 minute, stirring constantly. Add tomatoes; cook 2 minutes or until tomatoes begin to release their liquid. (I would add the tomatoes more toward the end of cooking, so they don't cook down and disappear into the dish.) Add chickpeas and zucchini. Cover, reduce heat to medium, and cook 5 minutes. Stir in remaining 1/4 teaspoon salt and pepper. Serve zucchini mixture with quinoa.
per serving (1/2 cup quinoa, 1 cup zucchini mixture): 278 calories, 6.5g fat, 11g protein, 46g carbs, 8g fiber