It's definitely been hot enough outside lately for ice cream. Here in Nashville we've been close to 90 with high humidity. Absolutely time to enjoy a scoop of this Strawberry Buttermilk Sherbet! I was instantly intrigued by the flavor combination, the fact it only has five ingredients, and a pretty decent scoop size is only 135 calories.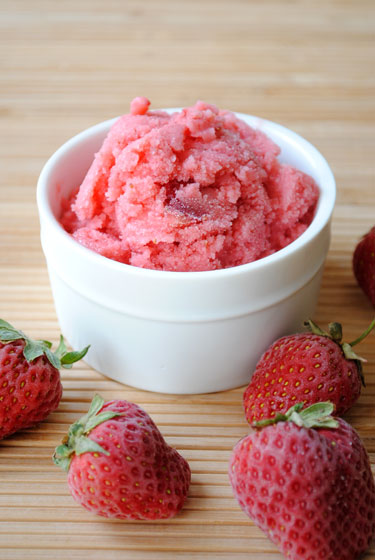 So, how's it taste?
It's magic. A few weekends ago, my mom and I went strawberry picking at Bradley Kountry Acres and it was a blast. I used to eat fresh-picked strawberries as a kid, but I've been led astray by those strawberries in the grocery store. Never again. The flavor of locally grown strawberries compared to those bland, barely ripe counterparts is night and day. The Bradley strawberries were so rich and sweet. I couldn't wait to use them in this sherbet. The recipe is really simple, but I like that because it lets each part shine, yet comes together so perfectly for a scoop of cold heaven. The strawberries, of course, are the most prominent with the Chambord kicking them up a notch in the berry department. The aftertaste is a shot of rich honey and a slight creamy tanginess from the buttermilk. The lemon brings it all together and brightens it up. It's quite addicting. I used fat-free buttermilk in my version, so the texture was a little more crumbly than what the whole buttermilk version would be. The nutrition information is calculated using whole buttermilk.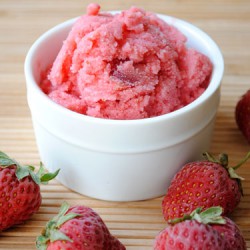 Strawberry Buttermilk Sherbet
Cooking Light, May 2012
makes 6 3/4 cup servings
per serving: 135 calories, 2.2g fat, 24.4g carbs, 1.1g fiber, 2.4g protein
(nutrition info calculated with whole buttermilk)
Ingredients:
2 cups chopped strawberries
1/3 cup honey
1 1/2 cups whole or fat-free buttermilk
3 tbsp. Chambord (black raspberry-flavored liqueur)
1 tbsp. fresh lemon juice
Directions:
1. Combine berries and honey in a blender; process until smooth (about 1 minute). Add buttermilk; process until well blended. Add liqueur and lemon juice; pulse to mix. Freeze using an ice cream maker according to the manufacturer's instructions.