Merry Christmas!
This is such a classic cookie in general, but I love to make M&M's Cookies with the red and green M&M's for the holidays. Way back in the day when mom and I started making Christmas cookies, these were always on the list. You know how I like to change up the list every year and make new varieties, so I didn't give them much thought…until this year. Wow, I really did forget how darn delicious they are! It's that brown sugar in the recipe that does the trick I think. I also love that candy crunch. This cookie just might make the list every year from now on.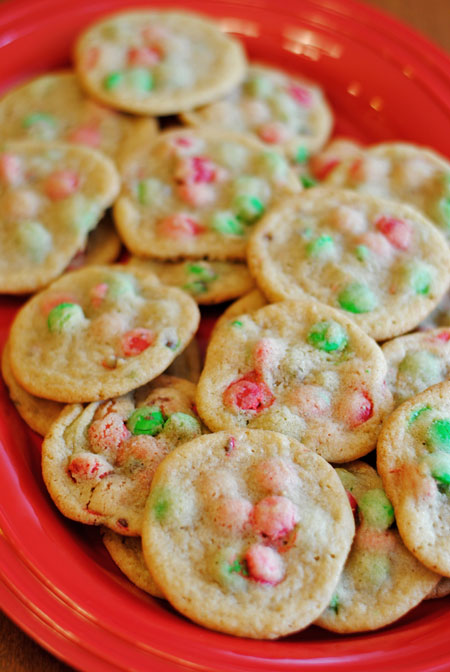 So, how's it taste?
If you love chocolate chip cookies, you'll love this one, too. It's pretty much the same tasty cookie only subbing M&M's for the chocolate chips. There's something about that crunch from the candy-coated chocolate that I just love. Using the red and green M&M's makes me so happy! Our cookies spread a bit more than I would have liked, but I forgot to do the chilling step, heh. Oh well, still tasted fantastic and now I have an excuse to bake more!
Other goodies from Cookie Baking Day 2014:
Chocolate-Covered Cherry Cookies
Mocha Toffee Chocolate Cookies
White Chip Cran-Pistachio Cookies
Glazed Hermit Cookies
Cream Cheese Spritz Cookies
Mint Chocolate Chip Cookies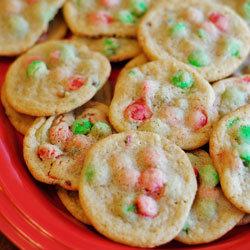 Yield: 24-30 cookies
Prep Time: 10-15 min
Cook Time: 8-10 min
M&M's Cookies
Ingredients:
1 cup butter
2/3 cup brown sugar
2/3 cup granulated sugar
1 egg
1 1/2 tsp vanilla
2 cups flour
1 1/4 tsp. baking soda
1 tsp. salt
1 3/4 cups M&M's
Directions:
1. Preheat oven to 350F.
2. In a large bowl, cream butter and both sugars until well blended. Add egg and vanilla; mix to combine.
3. In a separate bowl sift flour, baking soda, and salt together. Slowly add to butter mixture and stir until combined.
4. Fold in M&M's and chill dough for 1 hour or overnight.
5. Drop by rounded tablespoons onto a lightly greased cookie sheet about 2 inches apart.
6. Bake for 8-10 minutes for chewy cookies or 12-14 minutes for crispy cookies.