I've been planning this dessert for months. It's a sweet treat for a coworker who turns the big 3-0 today! Happy Birthday, Ryan! He loves lemon, so I wanted to do something that would have this beautiful Lemon Curd in it. I narrowed it down between a lemon/raspberry combo or a lemon/blueberry combo. Blueberry won out because I didn't want to deal with seeds, ha ha! I dreamed up Lemon Blueberry Cupcakes with Lemon Curd & Blueberry Buttercream. It's a mouthful, literally and figuratively!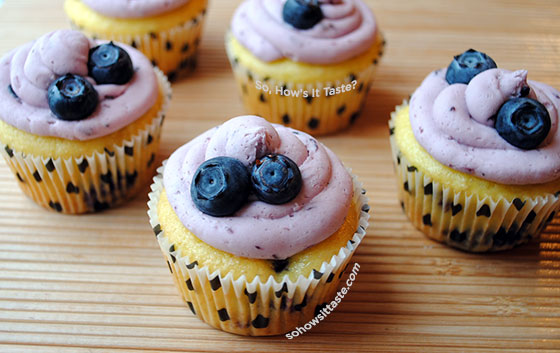 So, how's it taste?
This one is kind of tricky. I usually don't have a problem detecting if a recipe tastes good or not. I mean that's kind of the whole point to my blog. I was convinced that these were sub-par cupcakes. Mostly because of the cake part. The lemon curd I had made before and it was just as delicious as it was the first time. So we're ok with that element. Let me back up a little on the cake part. I searched high and low for a lemon blueberry cupcake recipe. You'd think the web would be full of them. I spied some on Instagram from my friend Julie over at Table for Two and had her email me the recipe. But when I read the reviews (not from hers, from the original recipe), everyone complained that they were more like muffins. I wanted cupcakes. Fluffy, moist, light cupcakes. Every recipe I found reported the same thing about their version being more muffin-like. I eventually landed on Betty Crocker and found the ones I ended up making. Only a few reviews, but all liked them and no mention of muffins.
Well, my mistake was using a Betty Crocker cake mix. Don't get me wrong, I love ya Betty, but Duncan Hines is #1 in my book and I should've never strayed. Even with the added lemon peel, these cupcakes didn't have enough lemon flavor. I swear I could taste the oil in them as well. My coworkers thought I was nuts on the oil part, but agreed that they could be a bit more lemony. Thank goodness I decided to fill these babies with tart lemon curd!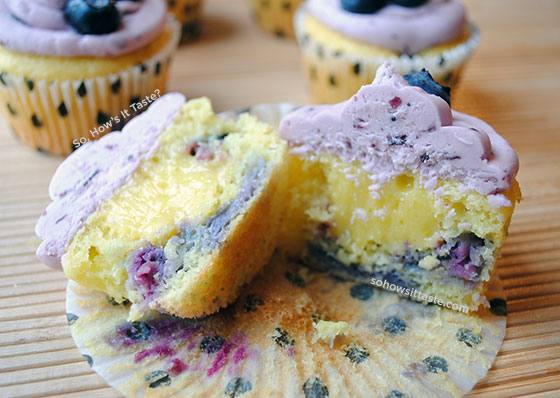 Next to the buttercream. You may remember the Blackberry Chocolate Cupcakes I made last year. That blackberry buttercream was off the charts! I used the same recipe and swapped the blackberry preserves for blueberry. It wasn't the same impact. Good, but not what I had imagined. I think the tart of the blackberries stands out against all that sugar and blueberry just didn't have that. It was good, but not the big punch of blueberry that I wanted.
I'm going to have to make these again. Staring at Julie's Instagram makes me wonder if having a more muffin-like texture would have been better. The cake was almost too light and fluffy to hold up to the filling and buttercream. So be on the lookout for this cupcake, part two. I'm determined to make this cupcake and have it knock my socks off!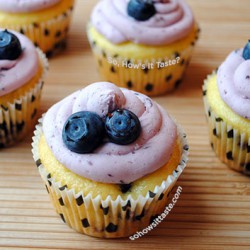 Lemon Blueberry Cupcakes with Lemon Curd & Blueberry Buttercream
Ingredients:
Cupcakes
1 box lemon cake mix (with pudding in the mix)
1 1/2 cups fresh blueberries
3/4 cup water
1/3 cup vegetable oil
1 tbsp. grated lemon peel
2 eggs
1 package (3 oz.) cream cheese, softened
Lemon Curd Filling
1/4 cup lemon juice
1/2 tbsp. lemon zest
1/2 cup sugar
4 egg yolks
5 tbsp. butter, sliced into tablespoons
Buttercream
1 cup (2 sticks) unsalted butter, room temperature
1/2 cup blueberry preserves
6 cups powdered sugar
Directions:
1. For the cupcakes, heat oven to 375°F (350°F for dark or nonstick pans). Place paper baking cup in each of 24 regular-size muffin cups. In small bowl, gently toss 2 tablespoons of the dry cake mix with 1 1/2 cups blueberries to coat; set aside.
2. In large bowl, beat remaining dry cake mix, water, oil, lemon peel, eggs, and cream cheese with electric mixer on low speed 30 seconds, then on medium speed 2 minutes, scraping bowl occasionally. Fold blueberry mixture into batter. Divide batter evenly among muffin cups. Bake 17 to 23 minutes or until tops are golden brown and toothpick inserted in center comes out clean. Cool 5 minutes; remove from pan to cooling rack. Cool completely, about 1 hour.
3. For the lemon curd filling, in a medium saucepan, combine the lemon juice, lemon zest, and sugar. Heat over medium heat until simmering. Turn heat to low. Meanwhile, whisk the egg yolks in a medium sized bowl until smooth. Slowly pour half of the citrus mixture into the yolks while vigorously whisking. Return the mixture to the saucepan.
4. Continue cooking over low heat while whisking until mixture thickens and coats the back of a spoon. About 5-10 minutes. Remove from heat and stir in the butter 1 tablespoon at a time. Cool to room temperature. Place in refrigerator in an airtight container to completely cool.
5. Use a cupcake corer or small spoon to scoop out a bit of cake from each cupcake and then fill with the lemon curd. You'll have just enough curd for each cupcake, so don't fill them too much or you may not have enough. Probably no more than 1 teaspoon for each cupcake. Of course, you could double the recipe and have leftovers. 😉
6. For the buttercream, beat the butter and preserves in a mixer until blended and fluffy. Gradually add the powdered sugar and mix until smooth. Pipe onto filled cupcakes.