Surprise! It's another recipe with pumpkin! Can you blame me? This time of year just calls for all these yummy pumpkin treats, and it doesn't hurt that I stocked my pantry with 12 cans of pumpkin. Those cans are just begging to be turned into something delicious. Delicious is definitely what you get with this Chocolate Chip Pumpkin Bread. I don't know what it is about pumpkin and chocolate, but they go so well together and the pumpkin makes this quick bread incredibly moist. Good thing about this recipe is it makes two loaves. So bake one for yourself and one to give away…if you can bear to part with it!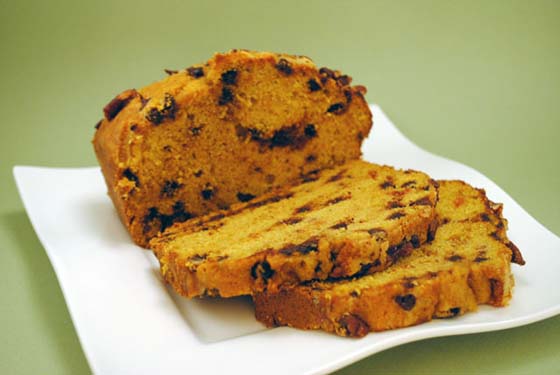 So, how's it taste?
Ah-may-zing! I almost hate to refer to it as a bread because it's more like cake. The pumpkin really shines and the mini chocolate chips add just a touch of richness without overpowering. The original recipe calls for a combination of cinnamon and nutmeg, and I decided to turn it up a bit and used pumpkin pie spice in place of the nutmeg. It was outstanding! A warm slice of this bread with a dollop of spiced whipped cream would be heaven. I thought it was a bit odd that the pecans are only sprinkled on the top instead of spread throughout, so if you're not feeling the pecans, leave them out. I think this bread might be better without them. It also gets sprinkled with regular sugar and next time I think I'll use coarse sugar for a nice crust on top. This might be a recipe that makes my fall baking list every year!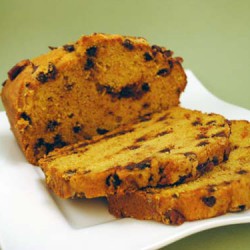 Chocolate Chip Pumpkin Bread
Ingredients:
4 cups all-purpose flour
2 tsp. baking soda
1 tsp. salt
1 tsp. ground cinnamon
1/2 tsp. pumpkin pie spice
2 cups sugar
3/4 cup butter, softened
4 eggs
1/2 cup water
1-15 oz. can pumpkin (not pumpkin pie mix)
1 cup plus 2 tbsp. mini semisweet chocolate chips
2 tbsp. chopped pecans
2 tsp. sugar
Directions:
1. Heat oven to 350. Grease bottom only of two 8x4-inch loaf pans with shortening; lightly flour (or use cooking spray and do not flour).
2. In medium bowl, stir flour, baking soda, salt, cinnamon, and pumpkin pie spice until mixed; set aside.
3. In large bowl, beat 2 cups sugar and the butter with electric mixer on medium speed 1 to 2 minutes or until creamy. Add eggs, one at a time, beating well after each addition. Beat in water and pumpkin on low speed. Add flour mixture; beat on low speed about 1 minute or until moistened. Stir in 1 cup of the chocolate chips. Spread evenly in pans. Sprinkle tops with remaining 2 tablespoons chocolate chips, the pecans and 2 teaspoons sugar.
4. Bake 1 hour 5 minutes to 1 hour 15 minutes or until toothpick inserted in center comes out clean. Cool in pans 10 minutes; remove from pans to cooling rack. Cool completely, about 1 1/2 hours.