My coworker Katherine made these Pumpkin Snickerdoodles several times this year and from the first bite I knew they'd make the Cookie Baking Day list! People rave about these cookies and I can taste why. It's the best of the classic snickerdoodle, plus pumpkin and more spice. They are so moist and almost cake-like. Perfect for this time of year with a big glass of milk!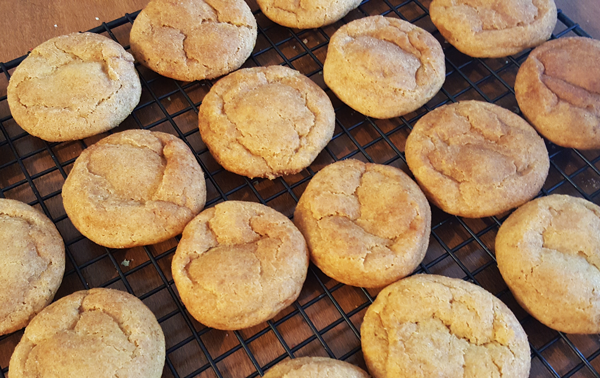 I was the most excited to make these. They are so, so good that I couldn't wait for my mom and friends to taste them. They're filled with spice and I love the additional cinnamon sugar on top. Keep in mind the dough needs to chill for an hour and that makes it a bit tough to scoop. This is why it's important to separate the dough into batches (which I didn't do), so you can work with a smaller amount. It's a bit of work rolling and dipping the dough, but so worth it in the end!
Other goodies from Cookie Baking Day 2017:
Cream Cheese Spritz Cookies
Mint Chocolate Chip Cookies
M&M's Cookies
Classic Peanut Butter Cookies
Tropical Chewies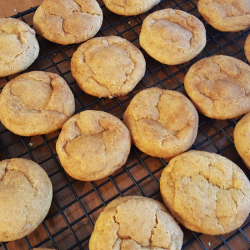 Pumpkin Snickerdoodles
Ingredients:
3 1/4 cups all-purpose flour
3 1/2 tsp cornstarch
1 tsp cream of tartar
1 tsp baking soda
1/2 tsp baking powder
1/2 + 1/8 tsp salt
1 1/2 tsp ground cinnamon
1/2 tsp ground ginger
1/2 tsp ground nutmeg
1/4 tsp ground cloves
1 cup unsalted butter, softened
1 cup granulated sugar
3/4 cup packed light brown sugar
1 large egg yolk
3/4 cup canned pumpkin
1 1/2 tsp vanilla
Cinnamon Sugar Coating
1/4 cup granulated sugar
1 1/2 tsp ground cinnamon
Directions:
1. In a large bowl, whisk flour, cornstarch, cream of tartar, baking soda, baking powder, salt, cinnamon, ginger, nutmeg, and cloves.
2. In a stand mixer, cream together butter, granulated sugar, and brown sugar.
3. Mix in egg yolk, pumpkin, and vanilla. Slowly add dry ingredients ; mix until combined.
4. Divide dough in half and place each half in a bowl, cover with plastic wrap and chill 45 minutes to 1 hour.
5. Preheat oven to 350 degrees during last 10 minutes of refrigeration. Prep baking sheets by lining with parchment paper.
6. In a small bowl, whisk together granulated sugar and cinnamon. Scoop 2 tablespoons of dough at a time and shape into a ball. Roll dough ball in cinnamon sugar mixture to evenly coat then transfer to baking sheets, spacing cookies 2 inches apart.
7. Bake 12-14 minutes. Cool on baking sheet about 5 minutes then transfer to a wire rack to cool completely.