Are these not the cutest mini pies?!  Believe it or not, I found these Apple Toffee Hand Pies in Cooking Light. If you can limit yourself, they can fit into your calorie budget. I didn't fair so well on the whole "limiting myself" part, but it's all in the name of baking. I had to make this recipe three times before I got it right. The first time I forgot the butter, the second time I didn't put in enough filling, and the third time was the charm!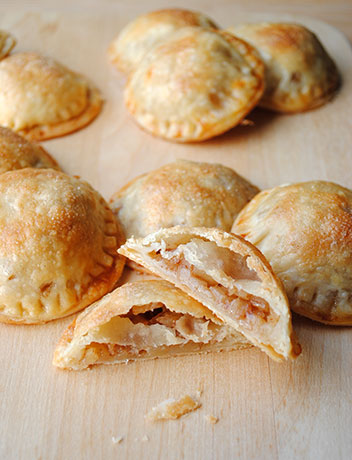 So, how's it taste?
They were pretty tasty, but you have to be a crust person to really enjoy them. I love pie, but my favorite part has always been the crust. Especially the bottom layer. While these hand pies are cute and tasty, they are pretty much all crust. I overfilled them by more than what the original recipe calls for and they were still mostly crust. The filling is delicious though. It's the perfect apple pie combination of slightly tart, yet slightly sweet apples with cinnamon and sugar. I liked the idea of the toffee chips, but you can barely taste them. I changed the recipe instructions to leave them out of the apple mixture and sprinkle more of them on top, and still couldn't detect them.
I think this recipe would be a real winner if the pies were made bigger to increase the filling to crust ratio. Of course, that would take them out of the low calorie category…but it's pie, and it's worth it!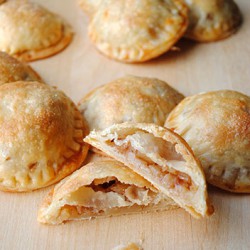 Apple Toffee Hand Pies
Ingredients:
2 cups finely chopped Gala or Rome apples
1 tbsp. sugar
1 1/2 tsp. fresh lemon juice
1/2 tsp. ground cinnamon
1 (14.1 oz.) package refrigerated pie dough (such as Pillsbury)
Cooking spray
1 large egg, lightly beaten
2 tbsp. toffee chips
1 tbsp. unsalted butter, cut into 12 cubes
Directions:
1. Preheat oven to 375°F.
2. Combine apple, sugar, lemon juice, and cinnamon in a medium bowl.
3. Roll the pie dough on a lightly floured surface into 2 (12-inch) circles. Using a 3-inch round cookie cutter, cut each dough portion into 12 rounds. Discard any remaining dough scraps.
4. Place 12 dough rounds on a baking sheet coated with cooking spray. Brush half of the beaten egg over dough rounds. Spoon about 1 tablespoon apple mixture onto each round, leaving a 1/2-inch border around the edges of the dough. Top each round with a sprinkle of toffee chips and 1 piece of butter.
5. Top pies with remaining 12 rounds of dough; press edges together with a fork to seal. Brush remaining half of beaten egg over each pie. Bake at 375° for 25 minutes or until golden brown.