This quiche sounds a little weird. Ham, pineapple, ok we're good there, but cheddar too? I don't mind odd flavor combinations, but this one made me hesitate just a bit. However, I knew I had to make Ham, Pineapple, and Cheddar Quiche when my mom agreed to trying it. She doesn't do "weird" food, so I thought for sure I'd get a "no way" when I found this recipe. But luckily she just doesn't do weird on her pizza (like ham & pineapple)!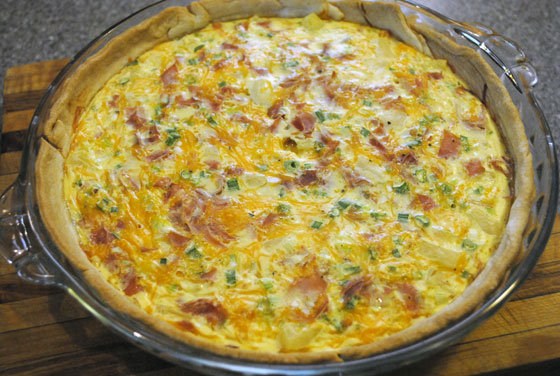 So, how's it taste?
We both loved it! I took the original recipe and made some lower calorie substitutions to make this more figure-friendly. The flavor did not suffer one bit. As this was baking, I kept thinking "what a pretty quiche." The flecks of green and pink and yellow, it looks like a Spring dish. I thought it was interesting how the flavors combined into this mouth-watering, savory dish. I expected to taste a burst of pineapple or a pop of onion, but all the ingredients work together and sort of merge into this mega-flavored quiche.
When I was making this quiche, I had no intention of making it again. I thought it would be ok, but now I'll be adding it to the rotation of dishes I repeat because they're so tasty!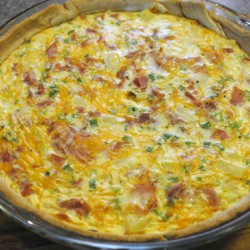 Ham, Pineapple and Cheddar Quiche
slightly adapted from Betty Crocker
makes 6 servings
per serving: 296 calories, 13g fat, 30g carbs, 0g fiber, 15g protein
Ingredients:
Crust
Purchased refrigerated pie crust
Filling
1 1/2 cups reduced-fat sharp Cheddar cheese, shredded
3/4 cup cooked ham, finely chopped
3 medium green onions, sliced (3 tablespoons)
1 can (8 oz.) pineapple tidbits in juice, well drained
3/4 cup egg substitute, such as Egg Beaters
3/4 cup fat-free half-and-half
1/4 tsp. freshly ground black pepper
Directions:
1. Thaw one pie crust according to directions and place in a 9-inch pie plate. Form crust to bottom of pie plate and up the sides, tucking under any overhang. Heat oven to 350°F.
2. Sprinkle cheese, ham, onions, and pineapple in crust. In medium bowl, beat egg substitute, half-and-half, and pepper until blended. Pour into crust.
3. Bake 40 to 45 minutes or until knife inserted in center comes out clean. Let stand 10 minutes before serving.