Since I made zucchini noodles in a creamy sauce a few posts ago, I am hooked. I couldn't wait to see how they'd turn out with a meaty, tomato-based spaghetti sauce. This Red Wine Spaghetti Meat Sauce has been with me for years. I adapted it for spaghetti a long time ago from a lasagna recipe. It got lost in my huge stack of loose recipes until I finally organized them in a binder. It was fun to find recipes I'd forgotten about and old favorites like this one, especially when they're handwritten.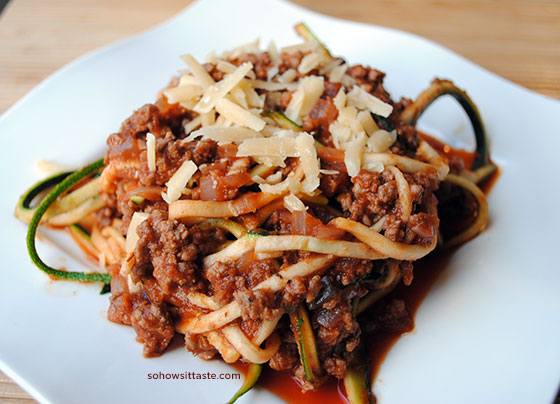 So, how's it taste?
Still in love with it after all these years! I think the last time I made this I didn't even drink red wine. I still enjoyed the subtle hint of wine back then and I can really appreciate it now. Definitely do as they tell you and use a wine you'd drink. Don't use the cooking wine as it's way too salty. These days I'm on a Merlot kick, so that's what I used. Any good red wine that you drink would work well. This sauce is so easy to put together and I think I love it because of it's simplicity. You probably have most, if not all, the ingredients already. For this batch, I used one pound of ground beef, but you could reduce it to 1/2 pound if you didn't want as much.
The zucchini noodles rocked, as I hoped they would! I am totally into making every kind of pasta dish I love using these noodles. They held up to the thick and meaty sauce just as well as pasta noodles. The only drawback I'm discovering is that the zucchini becomes watery and gets more watery the longer it's in the sauce, so that makes the sauce watery. I noticed that a bit with the leftovers on the creamy sauce version I made. Next time I'm going to try salting the zucchini noodles and letting them drain before I add them to a dish. Of course, this dish is fantastic with regular spaghetti noodles, too!
Have you made zucchini pasta yet? What did you think?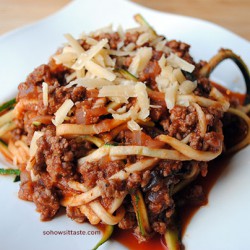 Red Wine Spaghetti Meat Sauce
So, How's It Taste? original
Ingredients:
1 lb. ground beef
2 tsp. vegetable oil
1 medium onion, finely chopped
2 cloves garlic, minced
1 tsp. oregano
1 tsp. basil
1/2 tsp. rosemary
15 oz. can tomato sauce
1/4 cup tomato paste
1/2 cup dry red wine
salt & freshly ground black pepper, to taste
spaghetti or zucchini noodles, for serving
Parmesan or Asiago, shredded, for garnish
Directions:
1. Cook ground beef in a large skillet over medium heat until no longer pink. Drain and set aside.
2. Add oil to a large skillet and heat over medium. Add onions, garlic, oregano, basil, and rosemary. Cook until onions are soft, about 8-10 minutes.
3. Add tomato sauce, tomato paste, and red wine. Stir until combined. Cover and simmer 10 minutes.
4. Uncover and add cooked ground beef. Cook uncovered 5 minutes. Add salt and pepper to taste. Serve over spaghetti noodles or zucchini noodles and top with shredded cheese.