I love Pinterest. You know I originally turned my nose up to yet another social media outlet, but finally caved and I'm so glad I did. There's some visits to Pinterest that turn into longer stays than I intend because there's so many goodies. Time really gets away from me in the food and drink category. I pinned this Autumn Chopped Salad and finally made it (yes, folks actually make the stuff they pin!).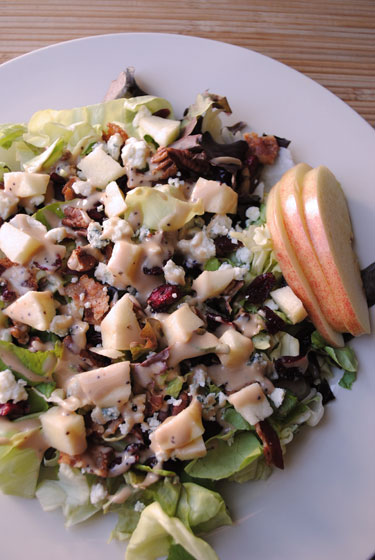 So, how's it taste?
I knew it sounded good or I wouldn't have pinned it, but I had no idea it would change my life. Yep, life-changing salad. It's now a thing and here it is. It rocked my world and it couldn't be easier to make. I've slightly adapted the ingredients, but feel free to experiment yourself. You could use pears instead of apple or almonds instead of pecans. The key is the dressing combination. It's a mix of poppy seed dressing and balsamic vinaigrette and it's genius. I can't even remember that dressing that starts with an R.
Everything in this salad is just plain good. I like all the ingredients by themselves, but put them together over butter lettuce, mix, and it creates this fantastic meal. I swear to you I had it every meal in a row until I ran out of ingredients and then I bought more ingredients and ate it again. It's light, it's refreshing, it's crunchy, it's savory, it's a bit sweet. It's perfect. During this time of year when meals can get really heavy, try this salad for a nice change of pace.
You'll notice I don't give you measurements for the ingredients. It's really just building the salad with as much or as little of each ingredient as you like. You can make it for one or for a crowd. Experiment with the mix of the dressings to see if you like a little more of one over the other. Enjoy!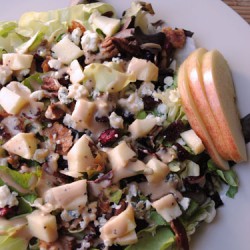 Autumn Chopped Salad
Ingredients:
butter lettuce (or your favorite lettuce)
apples
dried cranberries
chopped pecans
bacon, cooked crisp & crumbled
blue cheese, crumbled
hard boiled eggs, sliced (optional)
poppy seed dressing
balsamic vinaigrette
Directions:
1. Combine all ingredients except for the two dressings in a bowl and mix well.
2. In a small bowl, combine the two dressings. I like a 50/50 ratio, but experiment to suit your taste.
3. Add dressing to salad; toss to combine.