One of my many addictions of food is the everything bagel. It's perfect for someone like me who can't make a flavor decision, so I'll choose the one with everything! I couldn't resist making Mediterranean Turkey Bagelwiches. It's something a little more upscale from the regular sliced-bread sandwich. The hummus and cucumber must be what makes this sandwich "mediterranean," but I added Muenster cheese. Which isn't quite in keeping with the theme, but sure does make it tasty!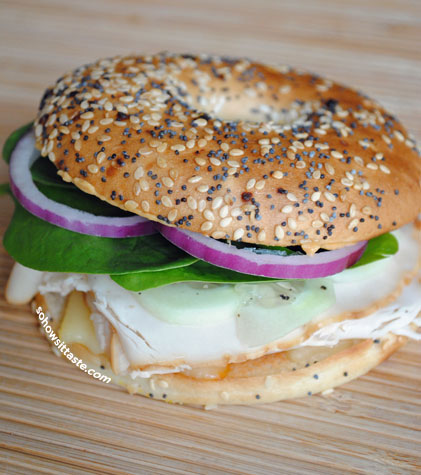 So, how's it taste?
It's like a turkey and cheese sandwich, but pumped up a notch. Using an everything bagel gives an awesome crunch. I really liked using hummus instead of the usual condiments, just make sure you buy really good hummus and a flavor you really like. The hummus is pretty prominent, as is the red onion, so slice it thinly. The fresh, crisp cucumber adds a clean balance to the rich Muenster. It's a good-for-you sandwich, too, from having spinach in place of lettuce. Great for lunch during these hot weather days and it's one you can feel good about with all the veggies and healthy turkey.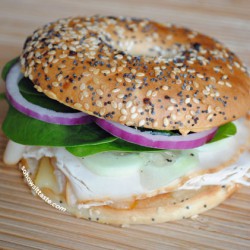 Mediterranean Turkey Bagelwiches
Ingredients:
4 tbsp. hummus
4 everything bagel thins, sliced
1/2 lb. sliced smoked turkey
4 slices Muenster cheese
1 medium cucumber, thinly sliced
1 small red onion, thinly sliced
16 spinach leaves
Directions:
1. Toast the bagel thins.
2. Spread about 1 tablespoon of hummus over the bottom slice of each bagel thin. Layer turkey, Muenster, cucumber, onion, and spinach on top of bagel halves with hummus. Top with remaining bagel halves.