One pot meals are perfect for weeknight cooking. This Beefy Rice Skillet is a cinch to make and is filled with fresh veggies. What caught my eye in the cookbook were those ripe, juicy, red tomatoes. My mouth was already watering. Then I read it calls for a box of four-cheese rice, which happens to be my absolute favorite (I use Rice-A-Roni). I knew I had to make this dish for dinner asap.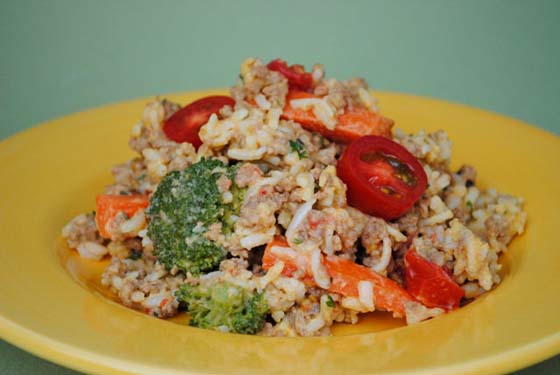 So, how's it taste?
It was fantastic. The seasoning in the Rice-A-Roni really jazzed up the beef. I really enjoyed the addition of the veggies. Sweet carrots, a slight crunch from the broccoli, and I finally got my juicy tomatoes. I loved them so much I added more to my serving. If you don't feel like beef, you could easily substitute ground turkey (and make it lighter). The only thing I would change when I make this again, is when to add the seasoning packet. The directions on the box suggest that you add the seasonings after the rice has cooked. In this version, the seasoning packet is added before and cooks with everything for about 20 minutes. It really loses its cheesy goodness. Next time I'll add the seasonings toward the end with the broccoli. I bet this dish would be out of this world with that cheesier flavor coming through. This meal also works great for leftovers.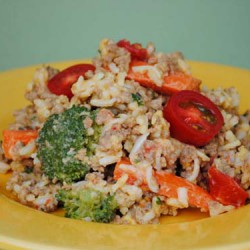 Beefy Rice Skillet
Ingredients:
1 lb. lean ground beef
2 1/2 cups hot water
3/4 cup baby-cut carrots, cut lengthwise in half
1 tbsp. butter
1/4 tsp. pepper
1 package (6.4 ounces) four-cheese rice and pasta blend (try Rice-A-Roni brand)
1 1/2 cups broccoli flowerets
1/2 cup cherry or grape tomatoes, cut in half
Directions:
1. Cook beef in 12-inch skillet over medium heat 8 to 10 minutes, stirring occasionally, until brown; drain.
2. Stir water, carrots, butter, pepper, rice mixture and contents of seasoning packet into beef. Heat to boiling; reduce heat. Cover and cook about 15 minutes or until rice and carrots are almost tender.
3. Stir in broccoli. Cover and cook 5 minutes or until crisp-tender. Stir in tomatoes. Cook uncovered about 1 minute or until heated.