Runny egg. Cheesy polenta. Salty olives. I should just end this post after those six words. I can't even begin to tell you how hard it was to photograph this Poached Egg over Polenta with Olive-Herb Pesto without drooling all over it or my camera. I mean it was painful. Food bloggers always joke about never being able to eat a hot meal and gosh if it isn't so true! Watching that yellow yolk ooze out over the creamy polenta almost did me in. You better believe I set my camera down (after a bajillion pics, amiright?!) and instantly grabbed a spoon. Heaven. Salty, creamy, cheesy, eggy heaven.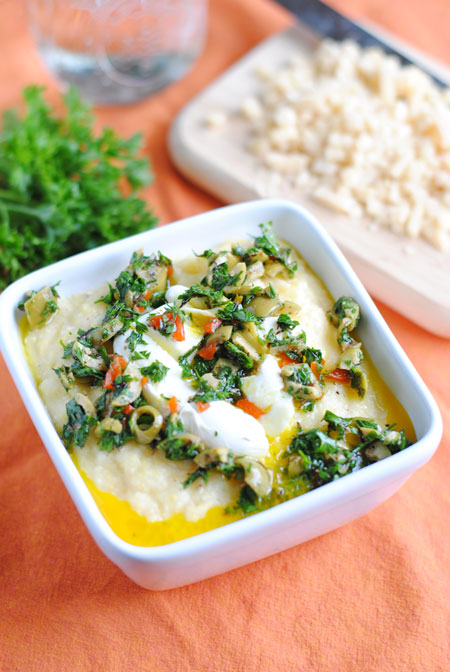 So, how's it taste?
Clearly I hated it. 😉 I love when the simplest of ingredients come together into something insanely spectacular. Simple polenta with Asiago melted throughout. A delicate poached egg on top. Garnished with a pesto made from fresh/dried herbs, a little olive oil, and olives. The recipe calls for all fresh herbs, but I used dried oregano and thyme and it worked just fine. I have a weakness for fresh parsley, so I really wanted that herb to take center stage. Y'all. Please make this. It's so so so good. You won't be disappointed!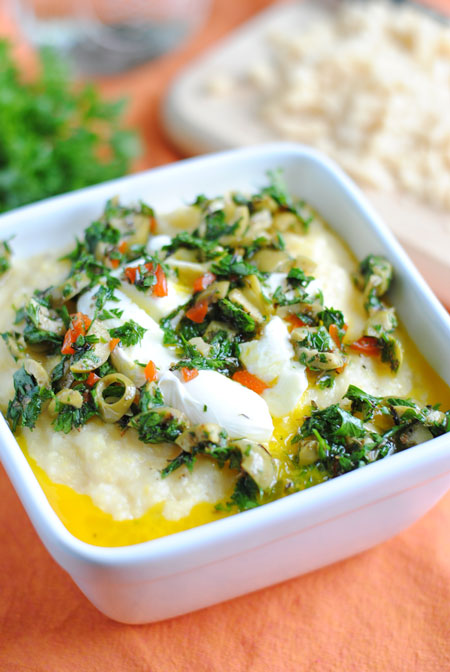 It surprises people who know me that I hate to be the center of attention. I mean hate it. Public speaking brings out a fear in me like no other. Even small things like being at a big conference table and everyone looking at me speaking is almost unbearable. A few months ago I was in a meeting and when it came my turn to speak, I forgot a dean's name. A DEAN'S NAME! Can I crawl under the table, please?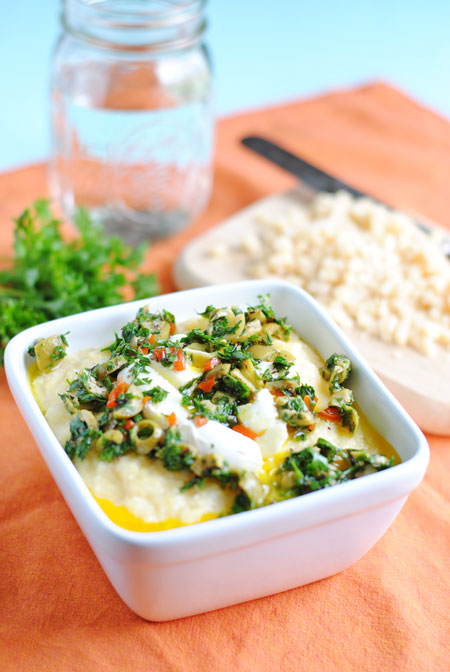 So imagine how fun it was when I busted it in step class last night. Yep, sailed right off that step and faceplanted. Luckily I'm 100% ok, but the entire class stopped and rushed over. I wanted to melt into the floor. My instructor Mark is hilarious though. I think he could tell I was crazy embarrassed, so he made the joke that I went down so gracefully with my hand up like an ice skater. Hence, my new step class nickname…Nancy Kerrigan. I think it should be Grace. 😉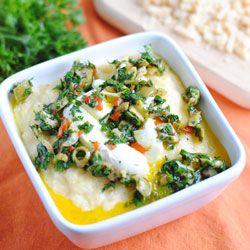 Poached Egg over Polenta with Olive-Herb Pesto
Ingredients:
Pesto
1/3 cup olive oil
1/2 cup green olives, coarsely chopped
1 cup fresh Italian parsley, coarsely chopped
1/2 cup fresh oregano, coarsely chopped
1/2 cup fresh thyme, coarsely chopped
Polenta
2 cups polenta
8 cups water (or more or less depending on how thick/thin you like it)
1/2 cup hard cheese, shredded (I used Asiago, Parmesan would work, too)
3/4 tsp. salt
Eggs
4 eggs
1 tsp. white vinegar
salt
Directions:
1. For the pesto, mix all ingredients in a medium-sized bowl. Season with salt and pepper. Set aside.
2. For the polenta, heat water in a large pot. When boiling, slowly pour in polenta. Lower the temperature to simmer and cook for about 20-25 minutes, until polenta has absorbed the water. Take pot off heat and stir in cheese and salt. Season with salt and pepper. Cover and set aside.
3. For the eggs, crack eggs into a small bowl, set aside. Heat another medium-sized pot with water, adding a sprinkle of salt and vinegar. When water is boiling, slide the four eggs into the water. Swirl with a spoon to help eggs form into solid shapes. Cook for about four minutes for a slightly runny center.
4. To assemble the dish, ladle about 1 1/2 cups of the polenta into a large bowl, add an egg to each bowl, garnish with the olive-herb pesto.
*Note: The recipe makes 4 servings, but I found the serving of polenta and pesto to be huge. I got 6 servings out of this dish, except for the eggs, of course.