I think it's safe to say I've been eating a lot of ugly food lately. These Ground Beef Reuben Melts are no exception. Yeah, I probably could've strategically placed a few pickles on the plate and maybe a scoop of potato salad or got creative with a fork and napkin, but I'm more about the food and some days I have zero patience with the camera. It's rye bread, beef, and sauerkraut. It's not pretty, but it sure is tasty. I love a good Reuben, so I was excited to try out this ground beef version and find out how it compares.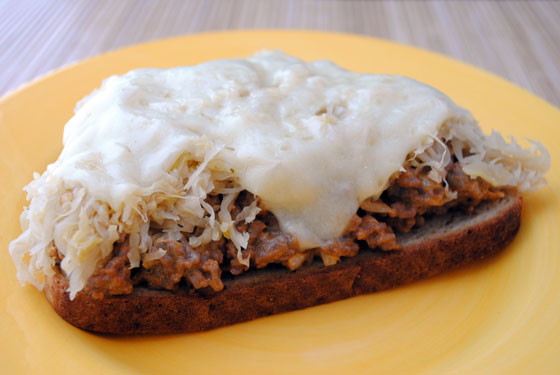 So, how's it taste?
Loved it. It had all the required flavors of a Reuben. Tangy Thousand Island dressing, crunchy sauerkraut, and creamy Swiss cheese. I couldn't find dark rye bread, so I used regular rye bread with the seeds. It still tasted just like my beloved Reuben, but without the corned beef. I've always said it's easy to screw up a Reuben so I was happy when the ground beef version was up to par. I invited my friend Carol over for dinner and served these because I know she's a fan of sauerkraut and I knew I could easily whip up this recipe on a weeknight, even after a full day at work and hitting the gym. It takes no time to brown the beef with onion, add the dressing, assemble the sandwich, and place under the broiler. We both agree it was quite the tasty meal and very filling. I served this without any sides (we saved room for dessert – Cinnamon Coffee Snack Cakes!), but this melt would go great with a deli salad like potato or a side of veggies. I've already purchased more ingredients to make these melts again this week!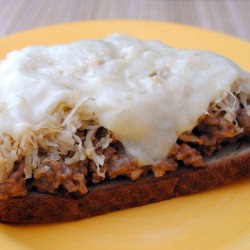 Ground Beef Reuben Melts
Pillsbury
makes 6 servings
per serving: 330 calories, 20g fat, 17g carbs, 2g fiber, 20g protein
Ingredients:
1 lb. lean (at least 80%) ground beef
1/4 cup chopped onion (1/2 medium)
2 cloves garlic, minced
1 cup undrained sauerkraut
6 slices dark rye bread, toasted
1/2 cup Thousand Island dressing
6 slices Swiss cheese
Directions:
1. In 8-inch skillet, cook ground beef, onion and garlic over medium-high heat 5 to 7 minutes, stirring frequently, until beef is thoroughly cooked and onion is tender; drain.
2. Meanwhile, set oven control to broil. In small saucepan, heat sauerkraut; drain. Arrange toasted slices of bread on broiler pan.
3. Stir salad dressing into beef mixture. Spoon beef mixture evenly onto bread slices. Top each with sauerkraut and Swiss cheese.
4. Broil sandwiches 4 to 6 inches from heat 3 to 4 minutes or until cheese is melted and bubbly.