I was really in the mood for some classic comfort food a few weekends ago. I wasn't quite up for a big pot of chili, but soup sounded so good. I found this Lemon Chicken Soup with Fettuccine in my Giada at Home: Family Recipes from Italy and California
cookbook and was instantly sold. Homemade chicken noodle soup but with a few twists. Giada uses spaghetti, but I wanted thicker noodles so I opted for fettuccine. The addition of lemon smelled amazing while it was cooking on the stove. Using already cooked rotisserie chicken makes this a cinch. It doesn't get any better than a big bowl of soup, especially when you didn't have to slave over the stove all day.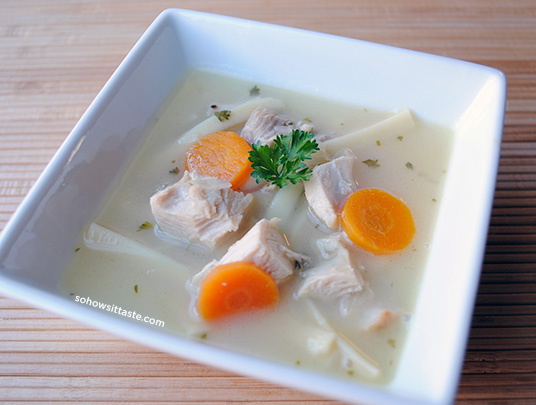 So, how's it taste?
It was phenomenal! I'm not sure I'll ever enjoy regular chicken noodle soup again if there's not any lemon. It brightens up the dish so much and isn't tart at all. You won't believe the difference that 1/3 cup of lemon juice will make. It was so fresh and so addictive! I could've slurped on bowls and bowls of this soup in one sitting. I used regular chicken broth instead of low sodium. I find low sodium broth to be extremely bland and I end up salting the heck out of my final dish. If you aren't as concerned about controlling the salt content, I'd recommend using regular. Be careful with your rotisserie chicken, too. I used a lemon pepper seasoned one and it had been seasoned with too much salt. Fortunately it didn't ruin my broth, it only made the bites of chicken very salty. Definitely taste your rotisserie chicken first or make your own. I also left out the celery from the original recipe. I don't like it, so I upped the carrots instead. If celery is your thing, add a chopped stalk and reduce the carrots to two.
This recipe comes from Giada at Home: Family Recipes from Italy and California
. I love this cookbook! I have so many pages bookmarked. It is some seriously good eats. I've also made her Espresso Caramel Bars from this book. A must-make, sinful dessert! Highly recommend this cookbook if you're looking to add to your collection.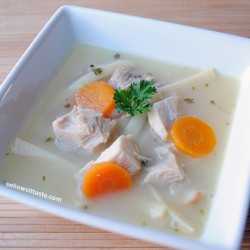 Lemon Chicken Soup with Fettuccine
Classic chicken noodle soup gets a twist with lemon.
Ingredients:
6 cups low-sodium chicken broth (or regular if you aren't as concerned with the salt content)
⅓ cup fresh lemon juice (about 2 lemons)
1 dried bay leaf
1 medium onion, finely diced
3 medium carrots, peeled and sliced into ¼-inch pieces
1 cup (about 2 ½ ounces) fettuccine, broken into 2-inch pieces
2 cups cooked rotisserie chicken, diced
1 cup grated Parmesan or Asiago cheese
¼ cup chopped fresh parsley
Salt and freshly ground black pepper
Directions:
1. In a large stockpot, bring the chicken broth, lemon juice, and bay leaf to a boil over medium-high heat.
2. Add the onions and carrots, and bring to a boil. Reduce the heat so the mixture simmers and cook until the vegetables are tender, about 6 to 8 minutes.
3. Add the broken pasta and cook for 7 to 9 minutes or until pasta is tender, stirring occasionally. Add the chicken and heat through, about 2 to 3 minutes. Remove the bay leaf. Remove the pot from the heat. Stir in the cheese and the parsley. Season with salt and pepper, to taste. Ladle the soup into serving bowls and serve immediately.
slightly adapted from Giada at Home: Family Recipes from Italy and California
This post contains affiliate links.