I made Roasted Rosemary Pork Chops and Potatoes for dinner the other night and I have never had my house smell so good, not even when baking bread. There's something about rosemary when it's paired with potatoes. I could eat a vat of it for every meal for a week and never complain. Add red onion and pork chops and you've got one spectacular meal that comes together in no time.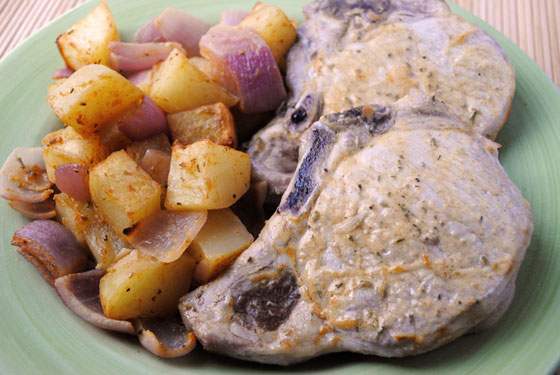 So, how's it taste?
I roast a lot of veggies and I like to experiment with different herbs and spices. Rosemary and potatoes go so well together by themselves, so you can imagine how good the addition of Dijon mustard, garlic pepper, and seasoned salt tastes. Roasting is such an easy way to cook veggies and I love how they'll get soft on the inside and nice and crunchy on the outside. However, roasting the pork chops in the same pan turned my potatoes a bit mushy from the juices. I'd recommend roasting the potatoes and pork chops in separate pans to keep the veggies crunchy.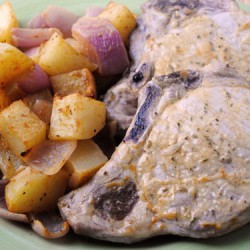 Roasted Rosemary Pork Chops and Potatoes
Ingredients:
2 tbsp. Dijon mustard
2 tbsp. olive oil
1/2 tsp. dried rosemary leaves, crushed
1/2 tsp. garlic-pepper blend
1/2 tsp. seasoned salt
1/2 tsp. paprika
3 Yukon gold potatoes, cut into 1-inch pieces (about 4 cups)
1 medium red onion, cut into 1/2-inch-wide wedges
4 bone-in loin pork chops, 1/2 inch thick
Directions:
1. Heat oven to 425°F. Spray 15x10x1-inch pan with cooking spray. In large bowl, mix mustard, oil, rosemary, garlic-pepper blend, seasoned salt, and paprika. Reserve 1 tablespoon of the mustard mixture.
2. Add potatoes and onion to remaining mustard mixture in bowl; toss to coat. Place vegetables in pan.
3. Roast uncovered 25 minutes. Turn and stir potato mixture. Brush pork chops with reserved 1 tablespoon mustard mixture. Add pork chops to corners of pan. (I'd recommend roasting pork chops in a separate pan so the juices don't cause the potatoes to get soggy.)
4. Roast uncovered 15 to 20 minutes longer or until pork is no longer pink when cut near bone and vegetables are tender.